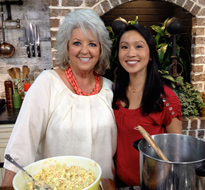 Pardon the second-rate pun, but Brigitte Nguyen '03 just keeps on cookin.' In 2010 we reported that the CMC alumna-accountant-turned-culinary expert had landed a weekly show on the Cooking Channel Network.
This time (wait for it) she's up against the former queen of butter and Food Network star Paula Deen. At noon ET/PT on Monday, Sept. 10, Nguyen goes spatula to spatula with the celebrity cook to see who can make the better burger: will it be Deen's aptly named Butter Bacon Burger? Or, will Nguyen's $50,000 Chinese Chicken Burger recipe out-sizzle the competition for the big win?
The episode of Paula's Best Dishes actually was filmed with Nguyen last November, at Deen's "beautiful home in Savannah, Georgia," Nguyen told us. "I had the best time filming with her."
This will be the second airing; the episode also ran on Saturday, Sept. 1. Nguyen was a cover story for the 2009 summer issue of CMC magazine.
You can also read more about her on the Cooking Channel website.