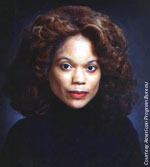 Connie Rice, civil rights activist, lawyer, and co-founder and co-director of the Advancement Project in Los Angeles, will visit the Marian Miner Cook Athenaeum on Tuesday, Feb. 3 to discuss "Presidential Politics: What Happened to We the People'?" The dinner portion of the program is restricted to The Claremont Colleges community, but Rice's address at 6:45 p.m. is open to the public, with free seating on a first-come basis.
Rice is renowned for her unconventional approaches to tackling problems of inequity and exclusion.
In her legal work, she has led multi-racial coalitions of lawyers and clients to win more than $10 billion in damages and policy changes, through traditional class action civil rights cases redressing police misconduct, race and sex discrimination and unfair public policy in transportation, probation and public housing. Rice filed a landmark case on behalf of low-income bus riders that resulted in a mandate that more than $2 billion be spent to improve the bus system.
At the invitation of LAPD Chief William Bratton, Rice investigated the biggest police corruption scandal in Los Angeles history and obtained the commitment of the Chief to reform LAPD's training and incentives system through an internal commission that she co-chairs. She also conducted a landmark 18-month assessment of the City of Los Angeles' anti-gang programs and drew the blueprint to reduce gang violence through a regional, multi-jurisdictional comprehensive strategy to right the balance between suppression and prevention.
In 1998, Rice co-founded with other veteran civil rights lawyers Advancement Projecta policy, communications and legal action group committed to racial justice. Its mission: "To develop, encourage, and widely disseminate innovative ideas, and pioneer models that inspire and mobilize a broad national racial justice movement to achieve universal opportunity and a just democracy."
Prior to co-founding Advancement Project, Rice was co-director of the Los Angeles office of the NAACP Legal Defense & Educational Fund, an associate at the law firm of Morrison & Foerster; and a clerk to the Honorable Damon J. Keith, judge of the United States Court of Appeals, Sixth Circuit.
She is a graduate of Harvard College and the New York University School of Law. In 2006, Los Angeles Times West magazine named Rice one of the 100 most powerful people in Southern California, and California Business Law twice named her one of the top 10 most influential lawyers in California. She serves on the boards of the Public Policy Institute of California and public radio station KPCC.
The Sojourner Truth lecture series is sponsored by the Intercollegiate Department of Black Studies of The Claremont Colleges and hosted this year by CMC President Pamela Brooks Gann.