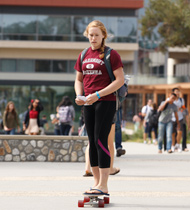 The Kiplinger 100: Best Values in Private Colleges for 2012-13 has ranked Claremont McKenna College 14th among top private liberal arts colleges that combine outstanding academic quality and affordability. Schools making the top 100 this year were selected from a pool of more than 600 private institutions.
According to Kiplinger, the list represents colleges that provide high-quality academics at a reasonable cost during continued tough economic times. The colleges exemplify the attributes parents and students look for in higher education, including small class sizes, a good freshman retention rate, and a high four-year graduation rate. Many schools, including CMC, have appeared on the list multiple times.
"Claremont McKenna College is committed to providing students with a splendid liberal arts education through its exceptional faculty, who are both teachers and scholars, and its talented staff," said CMC President Pamela Gann. "We are pleased to be recognized for our leadership in higher education by Kiplinger, and we will continue to offer a quality education, at an affordable price, and with outstanding resources."
Part of the five-school Claremont Consortium, CMC joins sister colleges Pomona (ranked 2nd) and Scripps College (ranked 16th) in Kiplinger's for its high graduation rates and low average student debt. All five of The Claremont Colleges are on this year's list.
"Kiplinger's list of the best private colleges has become a recognized and respected resource for families researching the best value in college education," said Janet Bodnar, editor of Kiplinger's Personal Finance magazine. "The schools on this year's list offer students both academic excellence and affordability, which is increasingly important in this challenging economic landscape."
Topping the 100 Best list was Swarthmore College, followed by Pomona, Washington and Lee University (3rd), Amherst College (4th) and Colgate University (5th).
The annual private school rankings will appear in the December 2012 issue of Kiplinger'son newsstands November 6. More about the rankings is provided on the Kiplinger Web site.