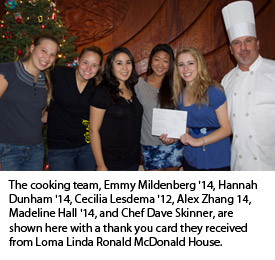 Like Dinner Impossible or Iron Chef, the clock was ticking, the food was cooking, and CMC's Dave Skinner was ordering his crew around the kitchen of the Loma Linda Ronald McDonald House. In the adjacent dining room, tables were set for 70 guests. Dinner was at 6:30. That meant two hours to get it all done Every. Minute. Counted. Stressful? Yep. But when 6:25 hit, Skinner and team had done itpulling the last of the trays from the oven, they sighed: Dinner is served! "It really was a group effort," says Madeline Hall '14, who was impressed and inspired to see a number of CMC's entities uniting to help families of the Ronald McDonald House on Nov. 15. Those "entities" included Cecilia Ledesma '12, Alex Zhang '14, Hannah Dunham '14, and Emmy Mildenberg '14.
It was mostly Hall, though, inspired by her own personal loss, who cooked up the idea to serve dinner to families of the local nonprofit. Throughout middle school she and her mother were volunteers at the Seattle Ronald McDonald House's library and movie rental store. "Ronald McDonald House is a safe and comforting place for families that have a child with a chronic illness," she says.
By the age of 15, Hall's devotion to the charity became deeply personal. "After a four-year battle, my mother passed away from melanoma skin cancer," she recalls. "No longer was I an outsider who was volunteering to complete service hours." Instead, the work allowed her to help other families, share her story, and sort through her own loss. "There is an unspoken bond between families who have dealt with the chronic illness of a loved one," Hall says. "Processing death and coping with sickness isn't something that disappears with time. It is, after all a processa journey I have walked with families of the Ronald McDonald House since I was a kid.
"When I took my next step and came to CMC," she says, "I knew I my work with the Ronald McDonald House had to continue."
The easy part of serving the crowds would be rounding up good CMC help. But feeding the multitude could be stickierit wouldn't be cheap. That's when Athenaeum chef Dave Skinner suggested calling Wolfe's Market around the corner, in Claremont. Owner Tom Wolfe "went above and beyond, and donated nearly all of the items the students needed for the dinner," Skinner says. "It also greatly reduced the cost and amount of fundraising the Community Service Office had to do," Hall adds.
That made for a final menu of saut?ed chicken Dijonaise, rice pilaf with chayote squash and baby carrots, steamed fresh vegetables and Yukon Gold Potatoes, a fresh fruit platter, tossed green salad with tomatoes and Ranch dressing, and for dessertfresh strawberries with vanilla ice cream.
International Place loaned the students cooking utensils and serving dishes, and Collins Dining Hall let them borrow plates and silverware. The last stop was registering the students to drive the College van so they could haul everything to Loma Linda.
Ronald McDonald House volunteer coordinator Gwen Terry says the students showed up wearing white chef jackets. "They were awesome, and the head chef (Dave Skinner) was awesome, too. It was a major production." At one point, she says she peeked into the kitchen and saw the students trying to season the chicken using salt and pepper from tiny, paper packets. "They didn't want to go nosing through our cabinets for salt and pepper shakers, so were doing the best with what they had," she says, laughing. "It was cute We found them a salt and pepper mill."
And because of all the food CMCers brought that day, Terry says the House was able to stretch two meals out of it, using the leftover chicken on another night, paired with meat loaf and steamed veggies.
Skinner says no doubt he was in "full chef mode" that evening, and "probably a little hard on the students helping me, as I was barking out orders like (Hell's Kitchen's) chef Gordon Ramsay. But afterward, it was very gratifying and the students accomplished something special."
The most challenging part, Hall says, was making sure all of the details were taken care of. "My cooking skills include mac n' cheese and cookies, so I definitely came away with a greater appreciation for parents who have to cook for their children everyday, and for the staff at the Athenaeum and Collins."
"The most rewarding part was by far talking to the families during dinner," she says. "I was greatly inspired by the challenges they have overcome and the stories they told me. When I go to Ronald McDonald House, I don't feel like I am doing community serviceI feel like I am helping friends."
For more information on the Community Service Office, contact them at communityservice@cmc.edu, or by calling 909-607-8300. The 2010-2011 Community Service Coordinators are Julia Guieron '11, Brittany Taylor '11 and Madeline Hall '14.