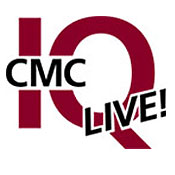 In November, CMC hosted two CMC IQ Live! events. These events are designed to showcase the intellectual capital of our faculty and provide opportunities for alumni, parents, and friends of the College to dialogue with faculty and each other.
The first event, held Nov. 14 at the Stanford Court Hotel in San Francisco, featured four CMC faculty discussing "Is the Global Economy Made of BRIC?" The discussion focused on the economic markets in Brazil, Russia, India and China, and how they will each challenge the US economic power in the future.
Faculty experts on each country composed the panel, including Minxin Pei P'11 (China), the Tom and Margot Pritzker '72 Professor of Government, George R. Roberts Fellow, and director, the Keck Center for International & Strategic Studies; Hilary Appel (Russia), associate professor of government and associate dean of the faculty; and S. Brock Blomberg P'13 (Brazil), Peter K. Barker '70 Professor of Economics, George R. Roberts Fellow and dean, The Robert Day School of Economics & Finance. Aseema Sinha, currently an associate professor of government, University of Wisconsin-Madison, will join the faculty of CMC in fall 2011, and participated in the panel as an expert on India. Peter Henderson, San Francisco Bureau Chief, Reuters News served as moderator. To watch the video from the San Franciso CMC IQ Live! event, click here. Google Headquarters in Mountain View was the site of the second event, held on Nov. 15. The topic for discussion was "California's Future: Will the Golden State Ever Recover?" covering both political and economic issues affecting our state.
Blomberg also participated on this panel and was joined by John J. Pitney, Roy P. Crocker Professor of American Politics, and Manfred W. Keil, associate professor of economics. Jim Christie, San Francisco Correspondent, Reuters News, served as moderator. To watch the video of the Silicon Valley CMC IQ Live! event, click here.