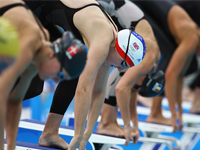 If you're one of the millions eagerly counting the days to the Opening Ceremony of the 2012 Olympic Games in London on July 27, and you're one of the lucky ones springing for tickets to Great Britain for all the hoopla, then here's a fun date to pop onto your calendar: Friday, Aug. 10. That's the day that CMC Trustee Chris Walker '69 is hosting a reception for CMC alumni, including members of the CMC Alumni Association Europe Chapter, at his London flat. The catered event is scheduled from 6:30 to 9 p.m., and promises to be a memorable way to cheer along favorite athletes in the company of fellow alumni, parents, and students of the College.
Think on it too long and you might miss out. Organizers say the event will cap out at 30 people, and with 16 already signed up to attend, spots are filling faster than you can say, "Carl Lewis."
For those familiar with London's public transportation, the closest tube station for Walker's London residence is Gloucester Road. Registration for this event is being handled online.
Questions also may be directed to the Office of Alumni and Parents Relation, 909-621-8097, as well as to Meghan Grebing, associate director of alumni and parent relations, Meghan.grebing@cmc.edu, 909-621-8902.
The 2012 Olympic Games will be held in London July 27-Aug.12. Visit the official website for more information about athletes, schedules, and results.