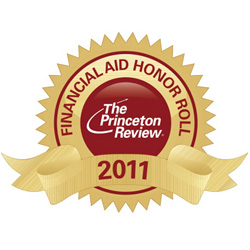 Claremont McKenna College is among only 11 colleges selected by The Princeton Review for their 2011 Financial Aid Honor Roll. The list, published in The Best 373 Colleges 2011 Edition, includes institutions that received the highest possible rating score of 99.
"Our financial aid program, including need-blind admission, is central to the mission at CMC," states Georgette DeVeres, associate vice president of admission and financial aid. "This generous program enables us to attract and enroll the most qualified and academically-motivated student body from diverse backgrounds and populations."
In addition to CMC, the honor roll (in alphabetical order) includes Bowdoin College, California Institute of Technology, Harvard College, Lake Forest College, Princeton University, Stanford University, Swarthmore College, Thomas Aquinas College, Washington University in St. Louis, and Williams College.
CMC has a competitive financial aid program partnered with a need-blind admission process, and a no-packaged-loan policy. For the 2009-10 academic year, 62% of students received financial assistance, with an average financial aid package of $37,360.
In The Princeton Review's The Best 373 Colleges, CMC's profile reflects that the College earned a top score of 99 for "Campus Life," and "Financial Aid;" "Academics" and "Admission" rated scores of 98 and 97 respectively. Featured schools are given ratings, or key quality indicators, that The Princeton Review tallies based on institutional data collected from the schools during the 2009-10 academic year and its student survey.
The Princeton Review also reports ranking lists of "top 20" colleges in various categories, based on a survey of students attending the college. CMC ranked second for "Happiest Students", fourth for "Best Quality of Life", and seventh for both "School Runs Like Butter" and "Best Career Services." Other high marks were received for "Most Politically Active Students" (10), "Most Popular Study Abroad Program (11), and "Most Accessible Professors" (12).
For the full list of The Princeton Review's The Best 373 Colleges, click here.