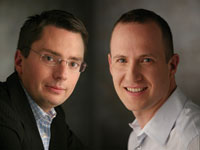 By cross-referencing nearly 38,000 twins in the Swedish Twin Registry, a trio of professorsincluding CMC's own Amir Barnea and Henrik Cronqvisthave discovered that genetics is what strongly drives investment behavior.
The study, "Nature or Nurture: What Determines Investor Behavior?" was conducted by Stephan Siegel, assistant professor of finance at the University of Washington's Foster School of Business, and Amir Barnea and Henrik Cronqvist, assistant professors of financial economics at Claremont McKenna College's Robert Day School of Economics and Finance.
By studying twins and their financial decisions, the researchers found that genetics account for one-third, on average, and as much as 45 percent of investor behavior. Other factors previously studied, such as age, gender, education, wealth and home ownership, when combined, explain only five to 10 percent of investor behavior.
"We found that the correlation among twins held true, no matter what their age and life experience," said Barnea. "Although family environment has a limited impact on young twins' behavior, that disappears as they age." Read more.