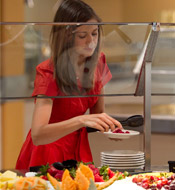 Sure, college students love their pizza, but don't assume their meal choices will earn them the Freshman 15. Greatist.com took a look at campuses across the nation and ranked The 25 Healthiest Colleges in the U.S. The findings show that while students have access to plenty of good food in college, they're also playing sports and taking advantage of countless perks of campus life. Mind and body workshops, state-of-the-art gyms, nutrition consultations with dieticians, cooking classes, organic gardens, meditation, all-vegan food, top- of-the-line health care, and chiropractic treatment and massage therapy were among the noted benefits of the 25 colleges selected.
Claremont McKenna College ranks 24 on the just-released list, which is topped at No. 1 by UCLA, Stanford (#2), the University of North Dakota (#3), and Colby (#4). Neighboring Scripps College placed 23rd, and Yale University hovered close to the middle at No. 11.
Greatist says the rankings are based on schools that "create the best environment for leading a fit, healthy, and happy life." In addition to nominations from their readers, they "scoured the web for any mention of schools with exceptional food, fitness facilities, health services, health-related programming," and happy students. They also consulted student surveys from College Prowler and The Princeton Review.
In its summation of CMC, Greatist noted the College's "A+" food grade from College Prowler. "Since 95 percent of students live on campus and campus residents must have a meal plan, the dining halls' health efforts have a huge audience," staff writer Kelly Fitzpatrick noted. "Recreation equipment is available in dorms, while there are also plenty of fun phys-ed options."