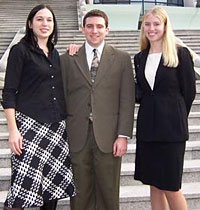 Two CMC students and a Pomona College teammatemembers of The Claremont Colleges Debate Unionwere undefeated at an international debate tournament held in November at Kyung Hee University in Seoul, South Korea.
Allison Westfahl '07, Amy Nelson '05, and Kyle Warneck (POM), won first-place in 11 wide-ranging debates against student teams from host country South Korea, as well as Japan, Thailand, Pakistan, and other American teams. They are also one of four different Claremont debate teams to have won a varsity-level championship in the fall 2004 term.
In lieu of trophies, the students each received $450 as well as celadon vases for placing first in the Northeast Asian College Debate Championship.
Debate topics ran the gamut from government financing of public transportation to the value of religious education in secondary schools and changed during each of the 11 rounds of debating. The final round concerned the removal of U.S. military bases from South Korea, which Westfahl, Nelson and Warneck argued was ill advised, due to the potential for conflict in the region.
Debaters had 30 minutes to prepare for each round without prior knowledge of the topic.
"The competition was excellent and certainly outpaced much of the domestic competition we often debate against, even at the top levels," says Nelson, a government and philosophy major. "The teams from Pakistan and Thailand were particularly good, and Ewha University in Seoul has an excellent debate program. They had three teams in elimination rounds."
Although the rigors of school and debating "seem to be running my life these days," Nelson says that she maintains an avid interest in African politics and is writing her thesis on economic development and prostitution in Central Africa.
"I am naturally argumentative, verbose and political, and debate has served as an outlet for those sundry passions," she said. "More than anything I have done in college, debate has taught me the fundamental skills of research, argumentation and presentation."
Like her teammate, Westfahl, a McKenna scholar and double major in mathematics and government, has a busy schedule; she recently was appointed to serve on the Claremont Community Services Commission for a four-year term.
Outside of her collegiate interests in mathematics and politics, Westfahl spends time with her four cats and has been a vegetarian since she was 9 years old. She also makes room for rock climbing, karaoke, and has become an advocate of pet spay/neuter programs to reduce animal homelessness and euthanizations.
Speaking to the characteristics of debate, Westfahl said that when knowledgeable, eloquent teams lose debates, "it is probably because they are not communicating well with each other. Amy, Kyle, and I understood our individual responsibilities and we communicated effectively."
Debate Union director John Meany says the Seoul competition proved an extraordinary opportunity for students to test their persuasive speaking and critical thinking skills in competition with graduate students from many of the top universities in the world.
Although a number of top college debate programs have a single outstanding team, or perhaps a second team, capable of winning a tournament, "it is extraordinarily unusual to have so many different teams from a single institution win tournament championships," Meany says. "It certainly demonstrates that there are many talented debaters here."
Following the debate, "I received an e-mail from Jason Jarvis who's an American professor teaching in the graduate school of journalism and communications at Kyung Hee University," Meany said. "He wrote that the students may not have realized it at the time, but they were seen as ambassadors of the United States and were viewed quite positively as representatives. The Koreans thought of them as friendly, approachable and rigorous, and that belies the often uncomplimentary view of Americans in the press over there."
The first-place finish in Seoul is just the most recent achievement for the CMC Debate Union. The Union's 2003-04 team placed fourth last April among 309 competing colleges, beating teams from Grinnell, Rice, Notre Dame and UC Berkeley at the National Parliamentary Debate Association's championship. It's the 12th consecutive year that the CMC teams placed in the top 10, and the third year in the top five.