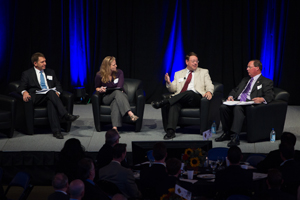 On October 9, 2012, the Inland Empire Center, in partnership with the UCLA Anderson Forecast, held the fourth CMC-UCLA Inland Empire Forecast Conference at the Citizen's Business Bank Arena in Ontario. The Inland Empire Center for Economics and Public Policy at Claremont McKenna College is a joint venture between the Rose Institute of State and Local Government and the Lowe Institute of Political Economy. Major conference sponsors included the Citizens Business Bank and Oremor Automotive Group.
A number of CMC faculty spoke at the conference. Janet Smith, Von Tobel Professor of Economics, opened the proceedings. Marc Weidenmier, William F. Podlich Professor of Economics, presented the Inland Empire economic forecast. Andrew Busch, Crown Professor of Government and George R. Roberts Fellow, and Kenneth Miller, Associate Professor of Government, spoke on a panel discussing election year politics and economics. Other participants included Jerry Nickelsburg of UCLA Anderson Forecast, Rachel Van Sickle-Ward of Pitzer College and panels on municipal insolvency, Ontario Airport, the future of retailing.
The Inland Empire Center released the fall issue of the Inland Empire Outlook to coincide with the conference. Claremont students and faculty contributed articles on municipal bankruptcy, GDP analysis, housing market analysis, changes at Ontario Airport, and councils of government. The articles will be available at inlandempirecenter.org. The 400 conference participants also left with research papers published in the CMC-UCLA Inland Empire Forecast, distributed for the first time in electronic format. Claremont students and faculty contributed articles on the pace of economic recovery, the modest housing market recovery, and Inland Empire demographics. click here for more photos.