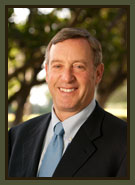 As the College fiscal year draws to a close on June 30, the Crown Challenge stands to magnify the effect of alumni participation in this year's giving campaign.
In an effort to increase giving, College Trustee Steve Crown '74 tied his contribution to the College to the number of alumni who donate: as more alumni donate money, his gift will increase. Rather than focusing on large gifts from a select few, Crown instead seeks to boost alumni participation by adding another layer of financial incentives to their giving. "As a group, we alumni need to do our part to keep CMC strong and vibrant," he said. "To accomplish this goal, the College needs support from every one of us."
The Crown Challenge includes levels of progressively larger gifts to the College. The base level, given if alumni participation reaches 44 percent, is $50,000. The gift then increases incrementally for each percentage point until participation reaches 50 percent, for which Crown will donate $800,000. Because the challenge repeats annually over a span of five years, he could potentially donate $4 million to the College.
The Crown Challenge reiterates the idea that every donation is meaningful to the College. "Many alumni have heard the phrase participation matters,' but they sometimes find it hard to believe that gifts of all sizes make an impact on CMC students," says Andrew Carrillo, Senior Associate Director of Annual Giving. "The Fund for CMC is truly a team effort, composed of donors who support at every level."
Beyond increasing funding to the school, individual contributions raise the College's national rankings. Because ranking agencies are often concerned with alumni satisfaction, the alumni giving participation is considered when calculating a college's overall score.
To give, please visit www.cmc.edu/giving.
Emily T. Meinhardt '10 and Peter Jung '10