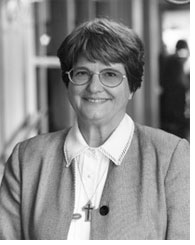 Helen Prejean, a Sister of the Roman Catholic order of St. Joseph of Medaille, and an internationally recognized advocate for the abolition of capital punishment, will speak about her personal journey as a human rights advocate during her visit to the Marian Miner Cook Athenaeum on Thursday, Jan. 28. The public portion of the program begins at 6:45 p.m., with free seating on a first-come basis in the main dining room; overflow seating will be offered in McKenna Auditorium.
A native of Louisiana, Prejean began her tireless advocacy efforts on behalf of death row inmates in 1981 in New Orleans. In 1982, she started visiting Elmo Patrick Sonnier in Louisiana's Angola Prison. She became his spiritual advisor and worked (ultimately unsuccessfully) to prevent his execution.
Prejean wrote a book about her experience, Dead Man Walking: An Eyewitness Account of the Death Penalty in the United States, which Random House published in 1993. The book became a best seller and was nominated for a Pulitzer Prize.
Before long, the autobiographical account of her relationship with Sonnier and other inmates became the basis for the 1995 feature film, Dead Man Walking. In the film, Prejean was portrayed by Susan Sarandon, who went on to win a Best Actress Oscar for the performance. Prejean herself appears in an uncredited cameo as a woman in the candlelit vigil scene outside Louisiana State Penitentiary.
After ministering to many other inmates on death row and witnessing several more executions, Prejean founded "Survive," a group that provides counseling and support for grieving families.
From 1993 to 1995, she served as National Chairperson of the National Coalition to Abolish the Death Penalty, where she helped to spark debate and create an international dialogue on the issue, as well as shape the Catholic Church's vigorous opposition to all state-sponsored executions.
Prejean's second bookThe Death of Innocents: An Eyewitness Account of Wrongful Executionspublished by Random House in 2004, grew out of her belief that some of the men she had counseled during their last days and hours were, in fact, not guilty. Copies of both books will be available for sale and signing in the Athenaeum lobby following her talk.
Prejean spent her first 24 years with the Sisters teaching religion to junior high school students and working within her community, first as religious education director and then as formation director. At the age of 40, she realized that being on the side of poor people was an essential part of the Gospel. Prejean moved into the St. Thomas Housing Project in New Orleans and began working at Hope House, a center that assists public housing residents.
A regular contributor to national and international publications, Prejean is a popular presence on TV news shows. She has received honorary degrees from universities all over the world as well as numerous awards in recognition of her advocacy.
Currently, Prejean lives in New Orleans and works with the Death Penalty Discourse Center, the Moratorium Campaign, and the Dead Man Walking Play Project. River of Fire: My Spiritual Journey to Death Row will be her third book on the topic of capital punishment.