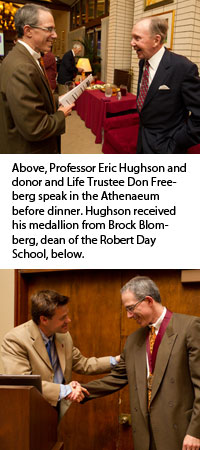 Eric Hughson was recently installed as the Don and Lorraine Freeberg Professor of Economics and Finance at CMC. Hughson teaches in the Robert Day School of Economics and Finance, and is the director of the Financial Economics Institute. As part of the evening's program at the Marian Miner Cook Athenaeum, Hughson gave a talk on "Funding Constraints, Asset Volatility, Market Liquidity, and Financial Crises: Lessons from History." S. Brock Blomberg P'13, dean of the Robert Day School and the Peter Barker '70 Professor of Economics and George R. Roberts Fellow, presented Hughson with his medallion.
"The Freeberg Chair gave me the opportunity to come to CMC and work with great students," said Hughson. "I've enjoyed both my research and teaching interactions here very much."
Hughson earned his B.S. from the Massachusetts Institute of Technology, and his M.A. and Ph.D. from Carnegie Mellon University. Before joining the faculty of CMC, Hughson was an associate professor of finance at the University of Colorado, Boulder.
Hughson's research focuses on market microstructure, financial econometrics, and decision theory. He is a member of the American Finance Association and the American Economic Association, and is a referee for a number of research journals, including Journal of Banking and Finance, Review of Financial Studies, Canadian Journal of Economics, and American Economic Review. President Gann recognized Don and Lorraine Freeberg for their long-time support of the College, and presented them with a plaque of appreciation. Freeberg is a Life Trustee on the CMC Board of Trustees, and was a recipient of the Honorary Life Membership Award in CMCAA.
For more information on Professor Hughson, visit his profile page.