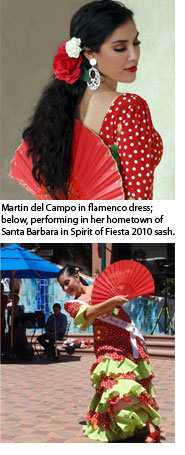 International relations and Spanish major Erika Martin del Campo '11 has been crowned "Spirit of Fiesta" in conjunction with the 86th Annual Old Spanish Days Fiesta which runs August 4-8 in Santa Barbara.
Del Campo was accorded the honor in competition with a field of 22 other women. Although her family hails from Mexico, "home town girl" Martin del Campo was born and raised in Santa Barbara just a couple miles from where she was crowned "Spirit of Fiesta."
An intrinsic part of that Fiesta spirit is music and dance, and dancing to the Spanish guitar is something Martin del Campo has been doing since she was a toddler. By the age of 14, her passion was flamencoand it's been that way ever since. Despite the challenges of balancing school with rigorous training and traveling for weekend performances and competitions, Martin del Campo makes it work.
"The traveling aspect of it can get tiring, and I do feel sad about not being on campus as often as I would like," says the CMCer, who is a company member of Fuego Gitano Dance Studio in Santa Barbara. (Watch some of her recent dances.) "However, dance is my passion and being named Spirit of Fiesta 2010 truly has been my dream come true."
How she arrived at CMC for her studies is a familiar tale to those enchanted with intimate colleges. Although enrolling at UCLA seemed to be a foregone conclusion for her, she experienced an instant change of heart after her first visit to Claremont McKenna. She was here on a Sunday, and by the next day, she had accepted enrollment.
"I completely fell in love with the campus, the atmosphere, and absolutely everything about the school," she recalls. "Coming to CMC has been one of the best decisions of my life."
It's provided, as well, the chance to study abroad. After spending a semester in Madrid, Spain, last fall, Martin del Campo came back smitten. "I absolutely loved it," she noted in her post-evaluation. "I was able to experience the raw passion of flamenco music, dance, and history." She also participated in a live flamenco show and studied at the world-renowned dance school, Amor de Dios.
"The funny thing is that throughout the whole process of choosing schools," she adds, "the only picture I ever put up on my bulletin board was a postcard I received from CMC. I guess some things were just meant to be."
*** Q: You spend so much time devoting yourself to flamenco. Why are you so committed?
A: Flamenco is my passion! It's the urge to dance when you hear the Spanish guitar or the cajones playing. Devoting myself to dance is easy because it's my joy in life. For me, flamenco is the rawest form of emotion. Even after the most stressful day, simply going into the studio and dancing helps release so much tension and allows myself to open up and become vulnerable. My favorite thing is performing and being able to share with the audience every emotion I leave on stage, whether it's happiness, joy, hurt, or pain. There's no better feeling than being on stage. Q: Why did your high school counselor think CMC would be a good school for you?
A: I think there were several reasons, but one of the main ones was the size of the school. I graduated alongside 52 other seniors and my entire high school was no larger than 300 students. Aside from the size, CMC has a great reputation, but isn't as often considered due to the immense popularity of big name schools, such as UCLA or USC. In addition, he believed having resources available from the other four colleges would be a great benefit. Q: Do your friends at CMC know you dance? Where do you spend time on weekendstraining?on campus? A: By now, all of my friends know I dance because I spend most of my weekends traveling back to Santa Barbara to practice. There are times that I am able to practice at Pomona College, but the floors aren't the best for flamenco shoes, making it difficult to hear my own footwork. I wish there was a place I could practice on campus, because traveling so often is exhausting. I often miss valuable studying hours, friends' birthday celebrations, and big events on campus. I do my best to manage my two lives (academics and dance), but it's not an easy task. Q: How often are you traveling?
A: When it's competition season I travel back home every weekend. I usually leave Friday morning and return to campus on Sunday night or Monday morning if practice runs late. My weekends back home are very valuable. Not only am I in the studio all weekend, but I'm designing my flamenco dresses and meeting with my seamstress, as well as making sure my music is cut properly, etc.
Q: What do you hope to do with your undergraduate degree after you graduate next year?
A: As of now, it looks like I will be taking a different route for graduate school. I plan to turn my focus toward clinical psychology and understanding the effects of PTSD on rape survivors. At the moment, I am pursuing a dual major in Spanish and international relations with a focus on women in Latin America. There have been several courses that have given me a closer look at the women of Latin America and the use of rape as a war weapon.
For the past three summers, I've interned at the Santa Barbara Rape Crisis Center. I hope to become a state-certified sexual assault counselor with a long-term goal of setting up practice in Santa Barbara as a therapist.