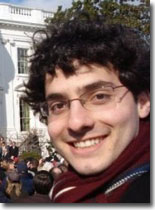 Government and physics double major Ilan Wurman '10 will be performing with Juliet Shih (SCR '09) as part of the Claremont Concert Orchestra at 8 p.m. on Saturday, May 2 and at 3 p.m. on Sunday, May 3, at Garrison Theater, Scripps College Performing Arts Center. Wurman, on flute, and Shih, on oboe, will perform Cimarosa's Concerto in G Major for Flute and Oboe. The orchestra will also perform Haydn's Symphony No. 104 in D Major (the "London Symphony"), and Brahms' Tragic Overture, Op. 81 and Variations on a Theme of Joseph Haydn, Op. 56a. The performances will be conducted by Professor of Music Michael Deane Lamkin.
Wurman began playing the flute in fifth grade, and he joined the Claremont Concert Orchestra in 2006. He has accompanied various singers in recitals and has participated in chamber groups on campus. He also joined the choir when they performed Mozart's Requiem with the orchestra.
Lamkin says Wurman has led the orchestra's wind section for the past two years. "He's an extraordinary musician and an outstanding scholar of music," Lamkin says. "He understands the function of music and the structure of it. He also is a very secure and confident performer, which in turn supports the confidence of the other players. We're really glad he will be part of the double concerto this weekend."
Wurman, whose interests include politics, astronomy, music, and foreign languages, has participated in CMC's Washington Program (while interning at the White House) and has served as editor of the Claremont Independent. He has also represented CMC at the Naval Academy Foreign Affairs Conferencethe largest undergraduate foreign affairs conference in the country, with delegates from colleges around the world debating and learning about topics of current importance to the foreign policy community.
Wurman will attend Stanford Law School in fall 2010, but he will return to CMC (and the orchestra) for another semester to complete his physics major.
The Claremont Concert Orchestra is a part of the Joint Music Program of Claremont McKenna, Harvey Mudd, Pitzer and Scripps colleges, featuring about 70 student musicians.
"Even though they are not majoring in music, the students in our concert orchestra have an exceptional ability and intelligence to understand the music and present it in an artistic and immensely satisfying manner," Lamkin says.
This weekend's concert is free and open to the public.
For more information, contact the Joint Music office, 909-607-3267.