Forbes Leadership Editor Pens Column About March 4 cmcIQLive! Event in DC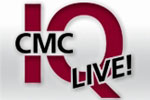 Frederick Allen, leadership editor for Forbes, not only moderated Claremont McKenna's cmcIQLive! event in Washington, D.C., on Tuesday, March 3, he also wrote about it the next day.
In his March 4 piece, Sizing Up Leadership in America, Allen recounts some of the questions he posed during the College-sponsored event ("Leadership in America") to CMC panelists Jack Pitney Jr., the Roy P. Crocker Professor of American Politics, and Congressman David Dreier '75, as well as their replies on such topics as the state of governmental leadership (Is it in crisis?), the Tea Party movement, and private-sector leadership. Read the full story.