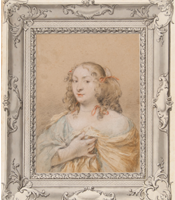 An exhibition at the Huntington Library, Art Collections, and Botanical Gardens in San Marino that CMC students helped create this past spring has since been picked up by the National Gallery, London, which featured the event in their Understanding British Portraits e-newsletter. The event is titled: Forthcoming exhibition: Royals, Courtiers, and Confidants: Early English Portrait Drawings from The Huntington's Art Collections.
The exhibition will be held at The Huntington Saturday, July 28 through Monday, Oct. 29, 2012, in the Works on Paper Room.
As the culmination of a semester course on English cultural history (Tudor and Stuart England), CMC students contributed to this exhibition on 16th- and 17th-century portrait drawings. Each student was responsible for studying a single portraitexamining how it was made and how the portrait's subject was represented, and conducting research on the portrait's historical context. Their research forms the basis of the exhibition's object labels.
"I knew I wanted my students to visit The Huntington since it is one of the premier destinations for studying English art in the United States," said visiting assistant professor of history Victoria Sancho Lobis, who also is curator of the print collection and fine art galleries at the University of San Diego.
The 19 works on view include miniature graphite drawings, pastel sketches, and pen and ink drawings by artists such as Peter Lely, William Faithorne, Peter Oliver, and David Loggan. Collectively, these objectsand the students' researchtell a story of how members of English society chose to portray themselves and how these works are seen by viewers today. Read more about how CMCers became involved.