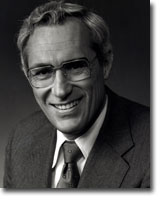 Donald A. Henriksen, 78, a former member of the Claremont McKenna College Board of Trustees, died on Wednesday, May 14, 2008.
A dedicated and valued member of the CMC community, Henriksen joined the Board of Trustees in 1981. During his tenure, he served on several key committees. He took a leave of absence from the Board in 1987 to accept the position of CMC's vice president of research, which he held until 1992. As vice president, Henriksen guided the establishment of three institutes: the Lowe Institute of Political Economy, the Gould Center for Humanistic Studies and the Roberts Environmental Center. In 1992, he returned to the Board of Trustees and served until 2003.
Henriksen also was a member of the boards for the Rose Institute, the Gould Center, the Keck Center, the Lowe Institute and the CMC Magazine Editorial Board.
He received his bachelor's degree in geology from the University of California, Berkeley, in 1950, and master's and Ph.D. degrees in geology from Stanford University in 1952 and 1954 respectively. During that time, Henriksen also played professional basketball for the Baltimore Bullets and Rochester Royals, having the distinction of appearing in the NBA's first televised basketball game. In 1967, Henriksen returned to school and earned a master's degree in management from MIT.
For 30 years, he built a successful career at ARCO, where he had the opportunity to live and travel abroad extensively.
"Don was a giant with a standard of character and integrity that is hard to find these days," commented Harry McMahon '75 P'08 '09, chair of the Board of Trustees. "He will be missed."
Memorial contributions may be made in Henriksen's name to Claremont McKenna College, 400 N. Claremont Blvd., Claremont, Calif. A memorial service will be held at 11 a.m. on Tuesday, May 20, at St. Denis Church, 2250 Avy Avenue, Menlo Park, Calif.