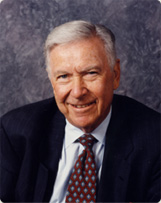 Robert Silverstein GP'04, Life Trustee of Claremont McKenna College, passed away on January 29, at his home in Beverly Hills California, surrounded by his family. He was 89.
He was born on January 6, 1923 in St. Louis, Missouri and moved to Los Angeles with his family at the age of two. He attended Fairfax High School, where he was inducted into its Hall of Fame in 1999. His pre-med studies at U.C.L.A were cut short by the outbreak of World War II when he enlisted in the Air Force and served as a B-24 bombardier and navigator in Italy.
After the war, Mr. Silverstein contacted a local manufacturer about making a plastic jewelry box he had conceived. Instead of pursuing his own product, Mr. Silverstein ended up joining the Plastic & Die Cast Products Corporation in their sales and marketing department. By 1949, thanks to his brilliant marketing and product development skills, he'd risen to president and CEO of what would become Eldon Industries. Eldon was named to The Times 100: The Best Performing Companies in California by the Los Angeles Times in 1988, 1989, and 1990 and included in the Top 200 Best Small Companies in America by Forbes Magazine in 1987. In 1990, Rubbermaid Incorporated acquired Eldon. Mr. Silverstein remained with the company until his retirement in 1991.
Mr. Silverstein also maintained a lifelong interest in medicine and was a strong believer in giving back to the community. He served on the Board of Directors of Cedars-Sinai Medical Center and was Chairman of the Board from 1995 through 1998.
Mr. Silverstein was a leader in the world of business, a noteworthy philanthropist, and a tremendous supporter of Claremont McKenna College.
Mr. Silverstein is survived by his wife of 40 years, Anita; his daughter Suzanne; his son Robert and his wife Susan; his daughter Blair and her husband Brian. He also leaves behind five grandchildren; Matthew, Leah, Jaysen, Theo, Jesse '04 and his wife Merisa '05.