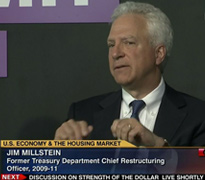 When he joined the U.S. Treasury in 2009, he had primary responsibility for the government's role in reorganizing the American International Group (A.I.G.), and helping taxpayers recover the $182 billion bailout of AIG during the 2008 financial crisis. Colleagues would go on to say that while shouldering an unprecedented level of scrutiny from "bailout oversight bodies," his pragmatic approahttps://www.claremontmckenna.edu/secure/cmcpublications/item.asp?article_id=2061&action=edit#ch won admirers, and that even in the tensest of momentshe wielded a sharp sense of humor.
James Millstein, the former Chief Restructuring Officer at the U.S. Department of the Treasury, will visit the Marian Miner Cook Athenaeum on Monday, Oct. 8 for a dinner lecture titled, "Hangover: The Financial Crisis of 2008 and its Fiscal Consequences." His visit to Claremont is sponsored by CMC's Gould Center for Humanistic Studies. The public portion of the event begins at 6:45 p.m., with free seating on a first-come basis.
Millstein worked in the U.S. Department of the Treasury from 2009-2011, and in his role was responsible for oversight and management of the Department's largest investments in the financial sector. He was a close aide to Treasury Secretary Timothy Geithner, the former International Monetary Fund and Federal Reserve Bank CEO who played a key role in responding to the 2008 financial crisis, including the rescue of Bear Stearns and the collapse of Lehman Brothers.
Millstein was the architect of American International Group's (AIG) successful restructuring, described by The Wall Street Journal as the "Super Bowl of Corporate Turnarounds."
Before joining the U.S. Treasury, Millstein served for about nine years as managing director and global co-head of corporate restructuring at global investment bank Lazard. He worked extensively on both domestic and international issues, including the restructuring of United Auto Worker's contractual relationships with GM, Ford, and Chrysler, and Argentina's international bond indebtedness. He also worked on the restructuring of cable company Charter Communications Inc., and represented WorldCom Inc., Loews Cineplex, and Budget Rent-a-Car in their restructurings as well.
Before joining Lazard, Millstein was Partner and Head of the Corporate Restructuring practice at Cleary, Gottlieb, Steen & Hamilton. For 18 years, he represented clients such as Disney, Daewoo Corporation, and Pan-American Airlines.
Millstein received a J.D. from Columbia Law School, where he was a Harlan Fiske Stone Scholar. He holds a bachelor's degree from Princeton University, and earned his master's summa cum laude in political science from the University of California, Berkeley. He has a law degree from Columbia University.
Upon leaving the Treasury Department in 2011, Millstein started his own restructuring firm, Millstein & Co., based in Washington, D.C. At the time, he told Bloomberg: "I had considered going back to the government over the summer, but the confirmation process is so broken it might have proven to be a road to nowhere, and I was ready to get back to work."