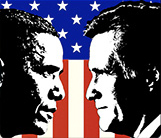 Los Angeles Times political and media columnist and blogger James Rainey will visit Claremont McKenna College on Monday, Oct. 29, for an Election Los Angeles Times 2012 talk: "Debunking Obama and Romney's Foreign Policy Positions."
The event begins at 7:15 p.m. in Bauer Forum.
Rainey's visit to CMC is sponsored by The Claremont Colleges International Relations Society (CIRS), CMC's international relations program, and the College's Center for Writing and Public Discourse.
A Los Angeles Times staff memo from last October noted that Rainey joined the newspaper as a staff writer in 1987, shortly after graduating from the University of California, Berkeley. He has covered child welfare, the environment, the mayoral administrations of Tom Bradley and Richard Riordan, the 1992 riots, the 1994 earthquake, several wildfires and the 2004 and 2008 presidential races. The Los Angeles native also spent a month in Iraq for The Times in 2006.
His columns, the memo noted, have explored politics, public television, local news, new economic models for journalism and the blurring of the line between advertising and editorial. A series of columns that he wrote about the deteriorating quality of local TV news won him the 2010 Bart Richards Award for Media Criticism from Pennsylvania State University. He was also credited with breaking the news as a columnist of KCET's withdrawal from PBS, NPR's ouster of Vivian Schiller, and a management shuffle at KNBC prompted in part by one of his columns.