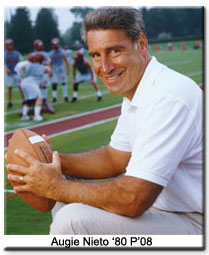 Homecoming this Saturday, Nov. 4, will feature a wide range of events for students, alumni, friends, and all CMCers. Highlights of Homecoming, during the College's 60th anniversary year, include:
Big Game rivalry this year pitting CMS against the La Verne Leopards football team at 1 p.m.
Claremont-Mudd-Scripps Athletics Hall of Fame Dinner, this year honoring Augie Nieto '80 P'08 (pictured), David Arkell '66 P'10, Carl Giles '86, Rich Davis '87, and Gerry Lahanas (SCR). Hall of Fame festivities will be held this year at Scripps College, Malott Commons, beginning with a 5 p.m. reception and dinner at 6 p.m.
Monte Carlo Night, the annual Homecoming student formal and fundraiser, will conclude the day's list of activities with mock gambling and dancing from 9 p.m. to 1 a.m. in Collins Dining Hall. Tickets, available at the football game and at the door, are $10 for alumni and $15 for students.
Following is a listing of all planned activities for Homecoming 2006.
For further inquiries or reservations, contact the alumni relations office: 909-621-8097.
9:30 to 11:30 a.m.: Athenas Alumni Tennis Classic, CMC tennis courts. Information: coach Maxanne Retzlaff, maxanne.retzlaff@cmc.edu
9:30 a.m.: Stags Basketball Alumni Classic, Ducey Gym. Information: coach Ken Scalmanini, ken.scalmanini@cms.claremont.edu.
10 a.m., Stags football alumni are invited to play flag football on Zinda Field. RSVPs and information: Josh Walter '01, josh.walter@cmc.edu.
11 a.m, Stags Soccer Alumni Classic, Pritzlaff Field. Information: coach Dan Calichman, Daniel.calichman@cmc.edu.
11 a.m., CMC Alumni Association Board meeting, Claremont Boulevard Building, main conference room. (Continental breakfast at 10:30 a.m.)
11 a.m. to 4 p.m., CMC gear for sale at Fritz B. Burns Stadium. Food will also be available at the concession stand.
11 a.m., tailgate party for Stags football alumni, Student Apartment basketball courts. (Bring your own Beverages.) Information: Josh Walter '01, josh.walter@cmc.edu.
11:30 a.m., Athenas Basketball Alumni Classic, Ducey Gym. Information: coach Jodie Burton, Jodie.burton@cmc.edu.
Participate in the Alumni Mentoring Caf?. Visit the Student Alumni Relations Council's booth during the game.
12 p.m./noon: join the 1986 SCIAC championship football team for lunch outside Zinda Field. Information: Dan O'Keefe '86, dan@integratedmedical.org
1 p.m., CMS Stags vs. La Verne Leopards, Zinda Field.
6 to 9 p.m., CMS Alumni Athletics Hall of Fame banquet, Malott Commons, Scripps College. (Reception at 5 p.m.) Information: Jonella Ramsey, 909-607-3389, jonella.ramsey@cmc.edu.
9 p.m. to 1 a.m., Monte Carlo Night, Collins Dining Hall.