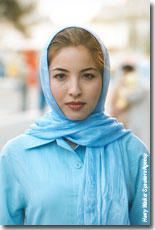 Iranian-American journalist Roxana Saberi, who made headlines around the world when she was captured and imprisoned in Iran on charges of spying for the United States, will visit the Marian Miner Cook Athenaeum on Wednesday evening, Sept. 23. The public portion of the program to hear Saberi's address, "On the Streets of Tehran," begins at 6:45 p.m. A dinner preceding the discussion at 6 p.m. is closed to non-CMC guests. The event is free, with seating on a first-come basis.
Saberi, a political prisoner caught in the middle of a dramatic political struggle between Iran and the United States, was abducted by four men early one morning in January 2009 and placed in solitary confinement. She was working as a freelance journalist in Tehran, contributing to NPR and ABC among others, and was falsely accused of spying for the United States. A former Miss North Dakota, who led an all-American life before moving to Iran, Saberi was sentenced to eight years in prison. Her battle for freedom would last 100 days before an appeals court released her following an international uproar. In the midst of reaching out to Iran to start a dialogue after decades of political deadlock, the Obama administration harshly criticized Iran over her imprisonment and there was speculation that Iranian President Ahmadinejad intervened on her behalf as a diplomatic overture.
Since the disputed Iranian election, hundreds of thousands of Iranian citizens took to the streets of Iran have called for free and fair elections. The Iranian regime's reaction of using deadly violence to quell the protests sparked outrage among its citizens and the international community.
Living in Iran for the past six years as a journalist, Saberi witnessed the developments leading up to these events in Iran firsthand. She is able to weave together the political, cultural, and historical significance of these events as they continue to unfold, and what it means for democracy, the Middle East and the world.
The Marian Miner Cook Athenaeum is located at 385 E. Eighth St., on the CMC campus.