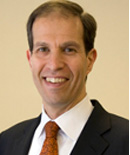 Ken Mehlman, member and head of global public affairs at Kohlberg Kravis Roberts & Co., LLP, will speak at the Marian Miner Cook Athenaeum on Sept. 20 on KKR's efforts to "go green." In his role at KKR, Mehlman oversees the global external affairs for the firm, including corporate marketing, communications, and regulatory affairs, and is a key member of the team responsible for the Green Portfolio Program. Mehlman will discuss KKR's commitment to and implementation of this innovative program.
Developed in 2008 as a partnership between KKR and Environmental Defense Fund (EDF), the Green Portfolio Program is designed to improve the environmental performance of the companies in which KKR invests through assessment and management of environmental impacts. Currently, twenty percent of KKR's portfolio companies are participating, resulting in a reported savings of $160 million in operating costs in only two years.
Prior to joining KKR, Mehlman was a partner at Akin Gump Strauss Hauer and Feld where he practiced environmental law. Mehlman has served in a variety of roles within the Republican Party, most notably as the 62nd chairman of the Republican National Committee, and manager of the re-election campaign for George W. Bush. In Bush's first term, Mehlman served as director of the White House Office of Political Affairs.
Outside of the office, Mehlman is a member of the Council on Foreign Relations, and serves on their Climate Change Task Force. He is a trustee of the United States Holocaust Memorial Museum and Franklin & Marshall College, and serves on the executive leadership cabinet of the Martin Luther King, Jr. National Memorial Foundation and the board of directors at the National Endowment for Democracy.
Mehlman earned a B.A. from Franklin & Marshall College, and a J.D. From Harvard Law School.
Mehlman's visit to the Athenaeum is sponsored by the Roberts Environmental Center.