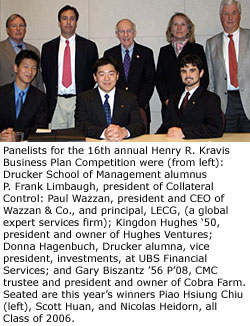 Students Piao Hsiung Chiu, Nicolas Heidorn, and Scott Huan, all Class of 2006, have been selected as winners of the 16th annual Henry R. Kravis Business Plan Competition. Their submission, Virtual Exchange Post: Where Virtual Playgrounds Become Virtual Economies, beat out four other finalists during judging on Friday, Dec. 2.
The top five plans were evaluated by a committee of practitioners in entrepreneurial ventures and venture capital. Panelists included alumni Kingdon Hughes '50, president and owner of Hughes Ventures, and CMC Trustee Gary Biszantz '56 P'08, president and owner of Cobra Farm in Lexington, Ky.
Sponsored by the Robert A. Day 4 + 1 BA/MBA Program at CMC and the Venture Finance Institute of the Drucker School of Management, the competition provides winners with a cash award. In conjunction, the winning entry will be used as the basis for the Robert A. Day Venture Capital Competition in the spring, requiring competitors to submit a proposal outlining funding of the Virtual Exchange Post plan.
"The Kravis Business competition was an exciting first step into the world of venture capitalism," Heidorn said.
Brian Dennis, associate director of the Day 4 + 1 Program, says panelists were struck by the level of professionalism exhibited by Chiu, Heidorn, and Huan during their presentation, as well as their ability to explain their business plan in a clear, succinct manner.
This year's submissions spanned a variety of industries including technology, education, health, and natural resources. The team's winning project proposed an entrepreneurial venture that capitalizes on the growing and untapped secondary market of virtual assets in massively multiplayer online role playing games.
"We were honored to be given the opportunity to have our ideas evaluated and chosen by such distinguished leaders in the industry," Huan said.
The competition affords students the chance to present their business plans and ideas to CMC and Drucker alumni who are entrepreneurial practitioners and venture capitalistsan exposure not typically afforded to an undergraduate in this forum.
"The mere process of writing the business plan was an incredible learning experience and fulfilling accomplishment and it was a great privilege to present to such a notable panel of judges," Chiu said.