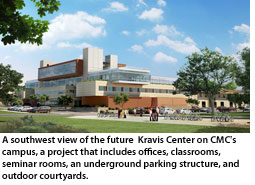 In the production of a defining moment, every modest movement counts. And almost as evidence, Web cams have been busy capturing photos every five minutes of the progress being made in the construction of the College's new Kravis Center.
Anticipated to become the signature entrance to Claremont McKenna, the Center, named for CMC Trustee Henry R. Kravis '67, is more than a year from its expected completion in spring 2011, but its fabrication has been advancing at a steady pace.
Since the beginning of the 2009/10 school year, "significant work has taken place on the superstructure of the building," says director of construction Frank Perri. "The building foundation is substantially complete. We have commenced placing concrete on the first elevated deck (the first floor) as well as first- to second-floor columns and walls."
Perri says work continues on reinforcing steel and concrete placement at the lower courtyard level. Also, the exterior finishes have been finalized, and an architectural mock-up of the building exterior is being constructed during the coming months on the north mall.
Look for exterior finishes on the architectural mock-up to include terracotta tiles, aluminum panels, cement plaster, and aluminum and glass walls. The east side of the stair tower and both sides of the elevator shaft will feature glass walls for a transparent appearance.
As far as materials for the lower courtyard level and the first floor exterior, Perri says precast concrete pavers will be used. The Veteran's Fountain located in Pitzer courtyard also will get a new home at the Kravis Center. It will be relocated, Perri says, to the lower courtyard level and rededicated once the Center is complete.
In the next couple of months, project leads also will be deciding on some of the interior finishes and furnishings, he says.
More information about the Kravis Center can be found here.
CMC magazine also recently had an opportunity to talk with Rafael Vi?oly-Menendez, the Los Angeles-based project director for New York's Rafael Vi?oly Architects PC, the team that is creating the new Kravis Center at CMC. Read the Q&A, in which he discusses the Center's design, including its nifty green elements.
Upon completion, the Center will include:
Approximately 133,000 square feet of space
55 parking spaces
About 56 independent faculty offices (not associated with an Institute).