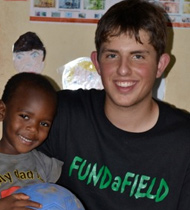 It's after 10 p.m. on a recent weeknight when my cell phone buzzes. Kyle Weiss 15 is texting from the Kravis Kube, where he is studying for a mid-termone of three big tests, actually, all in the same week. We're deciding what time in the morning would be good to talk about the newest award he's receiving at the end of the month, which means a minimum of $35,000 for his nonprofit FUNDaFIELD, which then means three more soccer fields for children in far-flung places that are too poor to develop their own.
The award is the World of Children Award, commonly referred to by the media as the "Nobel Prize for Child Advocates."
World of Children refers to these annual winners as "exceptional heroes who have dedicated their lives to serving children in need." Six awards will be given this year, and Weiss, 19, is one of two receivingspecificallythe Youth Award.
It is the third time his FUNDaFIELD work has gotten huge props, and how he juggles his CMC classes with the 24/7 demands of running a nonprofit (including interview requests like mine) is, yes, he admits, a struggle. Last year, he impressively snagged a Nickelodeon HALO Award, for which he received an onstage kiss from presenter Heidi Klum and a $10,000 check for more soccer fields. (Read the story.) Then this past spring, Youth Service America named him to its list of the world's 25 Most Powerful and Influential Young People. While at the time fielding congrats from well-wishers and journalists and managing finals at CMC, he was then already shin-guards deep into planning a celebrity youth soccer game, Chance to Play 2012, over the summer at USC. He co-organized it with Ryan Potter, young founder of the nonprofit Toys of Hope, to raise awareness and funds for both of their causes, but also to inspire other young people to make a difference in the world. With red carpet arrivals for more than 30 young TV stars, a halftime show, and detail after detail to manage, the eventsays Weiss "was one of the hardest things I've ever done. But I really learned a lot."
Apparently not hard enough to keep him from Uganda over the summer. That's right. While planning the USC game, Weiss brought three CMC buddies to the East African country in June, to host four qualifier soccer tournaments for children under the age of 14. (Read more.) And if we digress from the huge prize he's just won, it's only because there doesn't seem to be a word to describe the activity and level of do-goodism that is his life, at least for now. "It can be crazy at times," he says, the morning after studying in the Kravis Kube. Bedtime is usually 1:30 a.m., and with his first class at 9:35, he's thankful he can manage about seven hours of sleep.
The news about the World of Children Award, which he will receive at the end of this month in New York, is generating another round of interview requests. And so he says he treats the FUNDaFIELD demands like he would a class or sport. "I focus on making time for it every day, because this award is cool, and I really appreciate the honor."
"For Kyle, this recognition does not reside as a placeholder for building his ego," says Sarah Smith Orr, executive director of the Kravis Leadership Institute, "rather, it serves as a means of increasing the impact of FUNDaFIELD's mission through the expansion of his organization's resource base and stakeholder network."
To earn the minimum financial award of $35,000 that the newest prize offers, Weiss wrote and submitted a grant proposal to World of Children Award organizers. What he hopes to do is build two soccer fields in Haiti, where he found common ground with Olivier Martelly, the son of Haiti's current president, who also runs sports for social change. A third field in the Democratic Republic of Congo is also in the grant proposal, as well as the purchase of 10,000 "indestructible" soccer balls developed by musician Sting's One World Futbol Project. Weiss says the balls are regulation weight and size, but thanks to a new foam material, can't be put out of their misery.
There would also be a modest amount to design a new FUNDaFIELD website, which Weiss says would be better served by a more simplistic design that integrates the inspirational e-mails routinely sent by kids who are raising money for FUNDaFIELD or other social causes, and also better highlights the huge team of volunteers behind FUNDaFIELD's success. (Weiss' brother Garrett, who co-founded FUNDaFIELD, built the original website in 2007.)
Weiss thinks about life after CMC. He laughs good-naturedly at how busy he is, but realizes he has broader ambitions. "I think going to school and learning changes how you think about things," he says. "At some point I would like to have the ability to guide and direct the vision for FUNDaFIELD, but with the idea that it is self-sustaining."
To that end, he says he's been working with Sarah Smith Orr on steps to make FUNDaFIELD a more efficient, centralized nonprofit that runs itself. "I'm so thankful for her help," he says.
"Kyle is one, albeit a super star, among a dramatically increasing population of students in the United States and other countries who have grand ambitions to change the world," Smith Orr says. "He is a young leader not content to follow the traditional route of addressing societal issues. Social Entrepreneurship is his path. He is learning at a young age the range and power of strategic networks to achieve greater social impact while staying true to FUNDaFIELD's mission of changing lives."