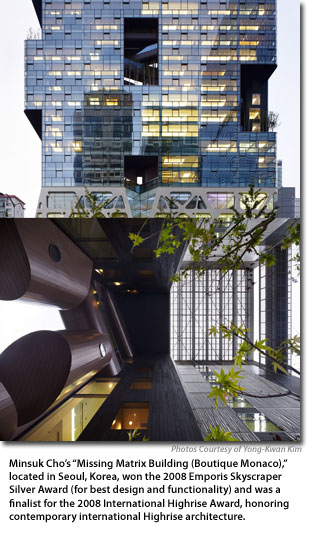 Minsuk Cho, founder and principal architect of Mass Studies in Seoul, Korea, will discuss his work during a visit to the Marian Miner Cook Athenaeum on Wednesday, Feb. 11. The public portion of Cho's discussion begins at 6:45 p.m., with free seating on a first-come basis.
Since the 1990s, architectural trends and discourses in South Korea have played prominent roles in shaping the larger global discussion on modern architecture and moving it into new directions. Stretching from South Korea to parts of United States, China, Europe and South America, buildings designed by architects from Korea have transformed places into ideal spaces for the unfolding of new forms of individual subjectivity and new social possibilities. One of the leading representatives of this class of Korean architects, Minsuk Cho, according to one article describing his works in Korea, "is an architect whose work challenges concepts of territory, typology, programme and representation in the region and in doing so, reveals the most radical form of public space."
Cho has also been described as "an architect of the contemporary global vernacular" and is "probably the most well known Korean architect on the current international scene."
Trained at the Graduate School of Architecture at Columbia University, New York, Cho worked at Kolatan/MacDonald Studio, Polshek and Partners, and the Office for Metropolitan Architecture (OMA). In 1998, with James Slade, he established Cho Slade Architecture in New York City. In 2003, Cho returned to Korea to found and become the principal architect of Mass Studies, which seeks "a critical investigation of architecture in the context of mass production, intensely over-populated urban conditions and other emergent cultural niches that define contemporary society."
Cho has received many awards, including the first prize in the 1994 Shinkenchiku International Residential Architecture Competition for new dwelling design, two U.S. Progressive Architecture Awards, and the Silver Award of the Emporis Skyscraper Award 2008 for its design of "Boutique Monaco." His representative works include "Pixel House," "Dalki Theme Park," "Boutique Monaco," "Seoul Commune 2026," "Ann Demeulemeester Shop," "Xi Gallery," "Ring Dome-Yokahama Triennale, Milan and Kitakyushu," and "Air Forest."
Recently, Mass Studies was announced the winner of the competition to design the Korean Pavilion for the World Expo Shanghai 2010.
Minsuk Cho's visit is generously supported by the Athenaeum, the Luce Fund in the CMC department of history, the Roberts Environmental Center, and the Keck Center for International and Strategic Studies.
Please contact Albert Park (albert.park@cmc.edu) or the Athenaeum, 909-621-8245, for more information.