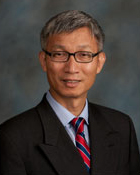 Minxin Pei P'11, the Tom and Margot Pritzker '72 Professor of Government and director of the Keck Center for International and Strategic Studies at CMC appeared on two news programs Wednesday, Jan. 19 on the occasion of Chinese President Hu Jintao's visit to the U.S.
First, Pei appeared as a guest on the BBC Radio program "The World Tonight" discussing China's role in the world today. When asked about China's role as a superpower, Pei stated that he did not think China met the criteria as such. "China is a great power," Pei explained, "which means that it has enormous capabilities in terms of its military and its economy, but it lacks the capacity to project its power globally." Listen to the full interview here. Pei's comments begin around 12:11 into the segment.
Next, Pei was interviewed on the PBS NewsHour about the visit between President Hu and President Obama. Host Jeffrey Brown asked Pei about the importance of the presidential meeting. "This meeting reset the tone of the relationship," Pei stated. "For the last year the relationship has been on a downward spiral, and this meeting has put an end to that." Watch the full broadcast here. Pei joins the discussion around 6:20 into the segment.