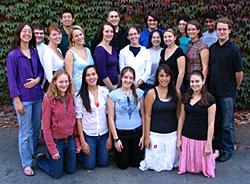 The Claremont Chamber Choir, under the direction of Scripps College Professor of Music History and Director of Choirs for the Joint Music Program Charles W. Kamm, will present two concerts at the Marian Miner Cook Athenaeum at 7 p.m. on Nov. 28 & 29. The program, Music for the Holidays, will include Italian madrigals by Monteverdi and Marenzio, Renaissance motets by Corteccia and Hassler, and a selection of music for the holiday season, including arrangements of traditional carols.
Kamm says the program will be an integration of meal and music among the 22 members of The Chamber Choir and the audience, with choir members sitting among the guests during dinner to eat and share thoughts about music and academic studies. "All too often," Kamm says, "the line between audience and musicians is very solid. In this event, we'll be able to cross that line during dinner, but then step back and focus on the music during the concert afterward."
The Chamber Choir is a select, auditioned ensemble of students organized under the Joint Music Program of Claremont McKenna, Harvey Mudd, Pitzer, and Scripps colleges. The singers represent all four colleges and major in subjects from music to engineering to government. The Chamber Choir performs a number of concerts on and off campus throughout the year, and members regularly sing as part of The Concert Choir.
Kamm has conducted choirs at Harvard and Yale universities, Vassar College, Xiamen University in China, and for Finnish National Radio. A concertizing tenor, he has sung oratorio and recitals in Europe, Asia, and North America. He holds degrees from Earlham College and Michigan State University, and is this year is completing a doctorate from Yale University.
---Emily Meinhardt '10