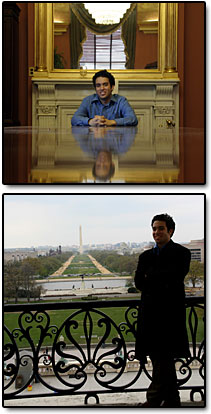 Government major Nick Warshaw '09 doesn't like to waste time. Whether maintaining a full load of challenging government classes, interning in Congresswoman Nancy Pelosi's office, oras the recently elected president of the California College Democrats (CCD)spearheading efforts to engage more students in the party's political ranks, Warshaw knows how to use his time.
The CMC sophomore, whose role as CCD president became effective during the California Democratic Party's April convention in San Diego, says convincing other young Californians that their vote and politics matters is his newest responsibility.
"It is imperative for members of my generation to understand that politics can be an incredibly effective vehicle for change," Warshaw says. "But they must turn out in numbers too large to ignore if they would like to reap the benefits of the political process. It is my job to try to make young people understand this."
Warshaw is bothered by the perception that young people don't vote. In 2004, for example, more 18-30 year-olds voted than did those over the age of 65, he says. "As president, it is my responsibility to ensure that politicians and political consultants understand that young people are the margin of victory."
In fact, having a CCD chapter on every University of California and California State University system is a personal goal by the end of his tenure in April 2008. "We work closely with elected officials and other youth leaders to activate, engage, and mobilize young people," Warshaw says. Toward that end, former State Treasurer and gubernatorial candidate Phil Angelides has already agreed to be the honorary chair of the California College Democrats and assist the organization with fundraising, he says.
It is not the first time that the CMCer, a self-declared "politico" has worked with other recognizable figures across the political landscape. Before becoming CCD president, he was its political director. And before that, he worked on a number of campaigns in California, including a two-year stint as intern for Senator Barbara Boxer. The latter led to Warshaw's work with Angelides, co-chairing Students for Phil," the California state treasurer's youth outreach efforts. As an intern for House Speaker Nancy Pelosi, "I had the great privilege of literally seeing the news unfold in front of my eyes," Warshaw says. "On numerous occasions I would read an article in the Washington Post about someone, only to look up from my paper and see that individual standing in front of me."
Despite this proximity to some of the leading players on the Washington political scene, Warshaw says his feet have remained firmly on the ground.
"You are always told that Washington is not what it is like in civics text books, and indeed, it isn't," he muses. "But I don't think it is that different from what is portrayed in news accounts. I think the perception that Washington is a rough and dirty place is overstated. I believe that, fundamentally, most of the people in Washington care about helping the public they serve."
Warshaw does allow, however, that his work in Speaker Pelosi's office paralleled NBC's The West Wing, with staffers exchanging witty banter and debating pertinent policy matters.
"My primary duties for the Speaker revolved around her scheduling," he says. "She received hundreds of requests a day from people hoping to meet with her. It was fascinating to see the volume of organizations and individuals who requested to meet with her, and how she managed to accommodate so many requests.
"Most of all," he says, "I consider myself extremely fortunate to have been able to be a small part of this historical and significant period in Congressional history."
Warshaw cites several CMC professors"especially Professor Jack Pitney"with teaching him the necessary pragmatic lessons about the political process, which he credits as a possible reason why Washington political machinations weren't personally shocking.
"I like to think of myself as what Professor Pitney has dubbed a Gov. Jock,' where government and politics have become my sport," Warshaw says.