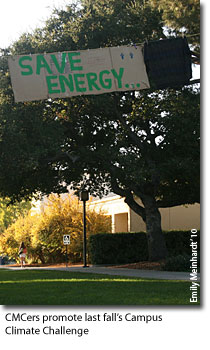 A panel of Claremont McKenna College faculty will exchange views on the topic of global warming on Wednesday, Jan. 30 at the Marian Miner Cook Athenaeum, an event linked to Focus the Nation, a national educational initiative for discussion on the gradual, increasing temperature of the earth's atmosphere. The public portion of the program begins at 6:45 p.m., and is free with seating on a first-come basis.
Representing different academic disciplines, professors S. Brock Blomberg, William Christian, Alex Rajczi, and Kathleen Purvis-Roberts will meet to discuss "Global Warming: Is It Our Responsibility?" Questions considered during the discussion will include: How do we address the issue of global warming? Is the environment a public or private good? Do we have a moral obligation to protect the planet? Is nuclear power a viable alternative to coal power? Who should enforce environmental policy?
Brock Blomberg, professor of economics (with specialties in macroeconomics and international economics), will present a formal political economy perspective on global warming, exploring the climate change in broad scope and considering economic costs of a solution; assistant professor of philosophy Alex Rajczi, who has published several papers on philosophy and public affairs, will discuss ethical issues involved with the environment, presenting a rational approach to the problem of climate change; associate professor of chemistry Kathleen Purvis-Roberts, whose research has focused on air quality, nuclear radiation, and public health, will discuss scientific indications of global warming; and visiting lecturer in government William Christian, who co-teaches the environmental law and policy course at CMC, is an environmental lawyer who has worked for the EPA, the State of Alaska, the oil industry, and nonprofit entities, and will discuss political aspects of global warming.
On Jan. 30-31, more than 1,000 colleges and universities will participate in a Focus the Nation symposium, with events ranging from teach-ins to meetings with members of Congress.
Focus the Nation founder Eban Goodstein will be a guest of the College on Tuesday, April 22, speaking at the Athenaeum in recognition of Earth Day 2008.
Wednesday's panel discussion is sponsored by the Environmental Crusaders, a CMC student organization that last fall organized The Campus Climate Challengea competition between The Claremont Colleges aimed at reducing student energy usage.