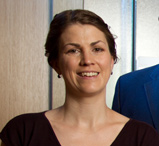 CMC Philosophy Professor Suzanne Obdrzalek recently received a high honor from the Journal of the History of Philosophy. The Journal cited Obdrzalek's article, "Moral Transformation and the Love of Beauty in Plato's Symposium", as the year's best contribution to the Articles section of the publication. The award carries a $1,500 prize.
"I am deeply grateful for this recognition of my work and am inspired to continue writing on the intersection of literary and philosophical aspects of Plato," Obdrzalek said.
Obdrzalek noted the spring 2008 seminar she taught on Plato's ethics enabled her to develop and modify her views based on classroom discussions. Scripps student Suzie Love also contributed to Obdrzalek's research on the article in the summer of 2008.
"One thing I tried to do in the article was to combine a close and literary reading of Plato's Symposium with a critical assessment of its arguments which draws upon work in contemporary moral psychology; this may be something the editorial board responded to," she said.
Obdrzalek has several other articles in the works and says her next big project will likely be on Plato's claim in the Phaedrus that philosophy is a form of madness.