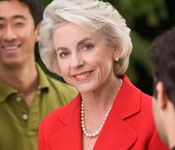 Claremont McKenna College's Pamela B. Gann is among the women featured in The Chronicle of Higher Education's Feb. 28 story, "For Claremont's Presidents, It's Not Lonely at the Top.'"
For the piece, writer Lawrence Biemiller sits down for dinner and conversation with President Gann as well as Claremont presidents Lori Bettison-Varga, (Scripps), Deborah Freund (Claremont Graduate School), Maria Klawe (Harvey Mudd), and Laura Trombley (Pitzer)to get down to the question: Does it make a difference to have so many women leading institutions in one place? And if so, why?
"If you put us all together we're like a liberal-arts university," Gann says at the close of conversation. "I don't think there's any better place to get an undergraduate education anywhere." Read the full story.