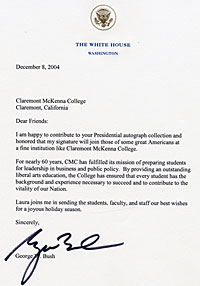 With the autograph of President George W. Bush now in hand, the College's Presidential Signature Collection is complete. In a letter dated December 8, the President praised the College for its 60-year history of "preparing students for leadership in business and public policy," and wished the students, faculty, and staff a joyous holiday season.
President Bush's signature will join that of his father's, President George H.W. Bush, in the double row of presidential autographs housed along the second floor walls of the Roy P. Crocker Reading Rooma collection protected by archival glass that now includes the John Hancock of every Commander-in-Chief. Blake Gottesman '02, special assistant to the President, assisted in fulfilling the request that rounded out the College's collection.
(Read full story on presidential signature collection: http://www.claremontmckenna.edu/news/insidecmc/2002february/pressig/pressig.htm).
The historic collection has suffered a few major snags in its shelf life. When originally displayed in Bauer Center, the photos and signatures were not contained in locked cases. Jim Hier '78, who would later make a significant contribution to the remaining presidential signature collection, says that during the height of the Watergate scandal, the original Richard Nixon letter was stolen--a fact confirmed by former Dean of Students Jerry Garris.
"It was returned at commencement that year, but they never discovered who took it," says Garris, who will become CMC's vice president for academic affairs and dean of the faculty on July 1.
President Bush's signature will officially join the collection in Crocker once it is placed in its protective frame. Read President George W. Bush letter in full.