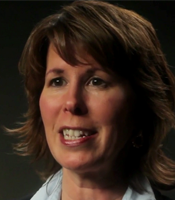 Audrey Bilger, professor of literature and faculty director of the Center for Writing & Public Discourse, has just published a review of Victory by lawyer, pundit, and author Linda Hirshman, for the Aug. 12 issue of the Los Angeles Times. Victory: The Triumphant Gay Revolution, was released this summer by HarperCollins, and details "the enthralling and groundbreaking story of the gay rights movement, revealing how a dedicated and resourceful minority changed America forever."
Bilger's review of Victory opens with these lines: Whatever you think about the controversy over Chick-fil-A's opposition to same-sex marriage, no one can deny that chicken sandwiches are now linked to the gay rights struggle in much the same way that Florida orange juice was in the 1970s.
The rising visibility of the LGBT community and its numerous achievements are the subjects of Hirshman's new book, Bilger writes. "Hirshman chronicles how political battles that once seemed unwinnable have been won and how LGBT people have claimed the right to live freely and openly on an equal footing with heterosexual citizens.
"Although many pens have written on the U.S. gay rights movement, particularly on the AIDS crisis and the 20th century rise in political activism," Bilger continues, "Hirshman reframes that history as the prequel to an ultimate triumph on the verge of coming to fruition. Read her complete review in the Los Angeles Times.