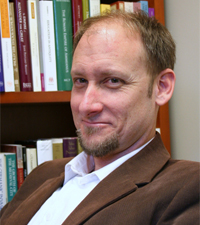 M. Shane Bjornlie, assistant professor of Roman and early medieval history, is the recipient of the Andrew Heiskell Post-doctoral Rome Prize Fellowship for Ancient Studies, and will spend his sabbatical next year in residence at the American Academy in Rome (AAR).
The Fellowship provides a $26,000 stipend and a year of residence at the American Academy on the Janiculum Hill in Rome, including an apartment for his family as well as a separate studio/study.
While in Rome, Bjornlie plans on completing his latest book: Politics and Tradition in Sixth-Century Italy: A Study of Cassiodorus and the Variae.
The project examines the political context for a collection of governmental letters written by Cassiodorus (a Roman statesman and writer) during Italy's transition from a late-classical to a post-classical society, Bjornlie says.
The collection, called the Variae, contains diplomatic, administrative, and legal briefs often cited by scholars and which provide insights into the continuities and discontinuities that Cassiodorus' Italy had with earlier (pre-sixth century) Roman society.
In his treatise, Bjornlie argues that, rather than a passive documentary witness to the early-sixth century, Cassiodorus constructed in the Variae a sophisticated rhetorical presentation of Italy as a political apologetic for the bureaucratic elite who had served under the regime of so-called Ostrogothic barbarians.
"In doing so," Bjornlie says, "Cassiodorus deployed a number of key themes (bureaucratic corporatism, governmental and legal traditionalism, natural conceptions of law, and intellectual antiquarianism) that provide insights into the nature of bureaucracy as a social group insulated within a culture possessing its own unique semiotics."
By examining this bureaucratic code in its relationship to external political, military and social pressures, Bjornlie says, his book will provide a model for "understanding the interaction and interdependency of politics, philosophy and literature in a period of intense social change.
"The manuscript represents a continuation of work from my 2006 doctoral thesis at Princeton University, and should reach fruition during my stay at the Academy," he says.
Bjornlie was awarded the Rome Prize by the American Academy in Rome which grants annual fellowships in a wide variety of categories, including architecture, design, literature, musical composition, and visual arts and historical studies.
The highly competitive fellowships require that finalists be interviewed in Manhattan by a panel of jurors specially selected in each category.
According to the AAR's mission statement, the Academy awards the prestigious Rome Prize to a selected group of artists and scholars invited to Rome to pursue their creative goals in an atmosphere conducive to artistic innovation and progressive scholarship.
"Spending a year of writing in the classical tradition of otium cum dignitate, and doing so literally in the shadows of Rome's ancient past, have the greatest appeal," Bjornlie says.
"At a more practical level, I anticipate that the incomparable classics library at the AAR, the interdisciplinary energy of the fellows assembled there, and immediate access to manuscripts and archaeological sites will all enhance my work."