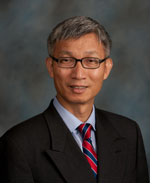 Minxin Pei, Tom and Margot Pritzker Professor of Government and George Roberts Fellow, was named today by Foreign Policy Magazine as one of its top 100 global thinkers.
In a Dec. 8, 2009, article for Newsweek, Pei outlines why pundits are wrong when they say that prosperous China will rule the world. (Read Pei's reasons here: http://www.newsweek.com/id/225627.)
Pei was recognized at #90 for his expertise on China. His research focuses primarily on economic reform and governance in China and U.S.-China relations. Topping the Foreign Policy list are Ben Bernanke, chairman of the U.S. Federal Reserve, and President Barack Obama.
"Professor Pei exemplifies the teacher-scholar model here at CMC," said Greg Hess, Russell S. Bock Professor of Public Economics and dean of the faculty at the College. "He has shown tremendous dedication to his students, his directorship of the Keck Center for Strategic Studies, and his scholarship. His views on China are very influential in public policy debates and discussions. We are enormously pleased to call him a colleague."
Prior to joining the CMC faculty this fall, Pei was the senior associate of the China Program at the Carnegie Endowment for International Peace. He also is the director of CMC's Keck Center for International and Strategic Studies.
To view the full list, please click here. Foreign Policy also polled the "thinkers" on their thoughts about President Obama, the global economy, and other international issues. Click here to see their responses.