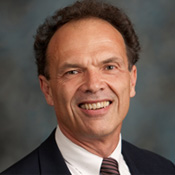 Roy P. Crocker Professor of American Politics Jack Pitney was interviewed on KCAL 9 and KCBS on Monday, Jan. 17, for a story the Los Angeles stations ran on Arnold Schwarzenegger ("I Was Addicted to Being Governor.")
The actor/politician acknowledged the sorry state of the California's budget, and his approval ratings that had plummeted to below those of Gray Davis, whom he unseated in a recall election.
Pitney's reactions start 57 seconds into the segment. (Watch now.)
"He's attributing too much to himself," Pitney says. "Governors rise and fall with the economy. They rise and fall with the state's fortunes. And governors have only a little to do with that."
Pitney also appeared on CBS News on Sunday, Jan. 16, for a brief segment ("States Battle Budget Deficits, Spending Cuts") outlining the budget crisis faced by California Governor Jerry Brown. One of Brown's first targets is requiring 48,000 state workers to surrender their tax-payer-funded cell phones (including his own) by next Junea move that will shave $20 million from the $28 billion deficit.
"The cell phones are a symbol," Pitney says. "It's not going to save a lot of money, but it sends a message."
Pitney's remarks start 34 seconds into the video.