Professor Stephen Davis' interview for PBS Religion & Ethics episode set to air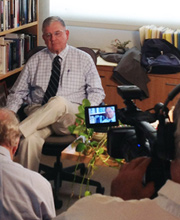 Stephen Davis, the Russell K. Pitzer Professor of Philosophy, was interviewed on campus last month, discussing whether members of the Church of Jesus Christ of the Latter-day Saintsthe Mormonsare considered Christians by Protestant evangelicals.
The interview is scheduled to air this month, beginning Saturday, Sept. 15. Watch the trailer and check local listings for air dates and times.