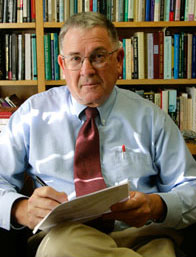 Stephen T. Davis, the Russell K. Pitzer Professor of Philosophy, has just learned he will receive an Honorary Doctorate of Humane Letters next month from his alma mater, Whitworth University in Spokane, Wash.
The news came as an unexpectedand pleasantshock to Davis, who graduated from Whitworth with a bachelor's degree in 1962, and has kept close ties to the university since then, attending alumni meetings and various speaking engagements as able.
According to Whitworth Dean of the Faculty Michael Le Roy, Davis ranks as one of the university's most distinguished and accomplished alumni in terms of academic achievement.
"Stephen's achievements really stand at the intersection of faith, reason and philosophy," Le Roy says. "As a teacher and person, he aligns very well with Whitworth's mission and values. And more than that, the faculty and students think very highly of him. He has become a beloved member of the community up here."
Davis, who is on sabbatical from CMC for the 2010-2011 academic year, spent the fall semester as a visiting professor of philosophy at Whitworth.
"I taught one class, Philosophy of Religion, did some research and writing, and tried to immerse myself in the life of the university," he says. "I attended a lot of faculty get-togethers, athletics events, and concerts and plays. It was good to see old friendsincluding Emeritus Philosophy Professor Howard Redmond, a big influence on me as an undergraduateand also make new friends."
Davis will receive the degree at Whitworth's commencement ceremony on May 15.
"I'm incredibly honored to receive this," he says, "and am looking forward to seeing many of my Whitworth friends again."