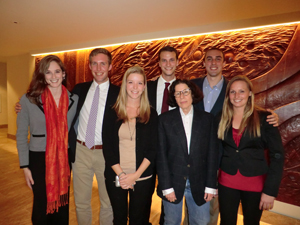 By Greg Zahner 12
As a gay student arriving at Claremont McKenna College, I was well-aware of our College's hyper-masculine reputation. With the College's encouragement, students strive to become the "leaders" of the nation's most powerful industries. Historically, such leadership opportunities have left little room for women, gay men and lesbians. The College has taken steps to counter such stereotypes, such as the collaborative effort to create The Women and Leadership Alliance. But there is still much to be done for the future of LGBT individuals in leadership.
The masculinity of our school is not very surprising considering CMC's early history as a men's college. We are no longer a men's college, yet the campus climate remains to be driven by a masculine culture and its perceived homophobia and sexism. Through my experience, much of CMC's reputation in this regard is grossly exaggerated, but still, I do not feel our campus is welcoming enough to all types of diversity. The lack of sufficient representation for women, gay men and lesbians is an issue we should all care about because it causes some people to be unhappy at "America's Happiest College." Even worse, it causes CMC to lose out on many highly qualified prospective students, faculty, and staff who never come, as well as those current members who ultimately decide to leave. As an admitted student, the masculine reputation was my largest reservation about attending CMC. In March of 2011, the 2011-2012 team of Resident Assistants decided it was time to have an open conversation about the role that masculinity and sexuality play at CMC. To do so, we created a high profile, yearlong series at the Athenaeum titled Shifting Perceptions: Celebrating the Spectrum of Leadership that aimed to address topics important to tall segments of our student body.
CMC's redeeming qualities are endless, and most people who have become part of this community fall in love with it and strive to make it even better. That is the goal of the Shifting Perceptions series: to improve our campus culture and fill the void that currently exists in promoting support and understanding for more diverse groups. We have a heterogeneous student body and it should be represented so. Whether this will be an easy or a hard battle to fight, it would be unlike CMC to shy away from the difficult issues - issues that are affecting not only our student body, but many other college campuses across the country.
When I embarked on the endeavor to bring our Ath series idea to fruition, I had no idea the impact it would have on me and our community. Over the past summer, I spent countless hours with Athenaeum Director, Bonnie Snortum, writing invitations and booking speakers. President Gann and the Women and Leadership Alliance were particularly strong supporters, and ultimately 11 different offices and school-affiliated groups sponsored the series. We targeted a diverse collection of speakers who would appeal to different groups on-campus. A fellow RA, Kevin Macpherson '12, was instrumental to the Shifting Perceptions Series as he created a common theme for the series that united all the events. For me, one of the biggest surprises was the tremendous student support and the great turnout for all of our events. Dinners for six of the seven speakers were filled to capacity and the seventh was just shy.
The first speaker, Pulitzer Prize winner James B. Stewart, spoke about "Leadership and Ethics," as well as his new book Tangled Webs: How False Statements are Undermining America. Stewart's talk on September 14, 2011, was followed the next night by actor BD Wong, known best for his award-winning performance in M. Butterflyas well as his role as Dr. Huang on the TV show Law and Order: SVU. In his talk, Wong discussed his experience being Asian-American and gay in the acting world to the Athenaeum dining room packed with students.
Our third and final speaker for the Fall 2011 semester was Rick Welts Jr., the President and COO of the NBA's Golden State Warriors and former Executive Vice President and Chief Marketing Officer of the NBA. Welts was a particularly exciting guest due to his leadership role in an industry characterized by a presumed hostility towards women, gay men and lesbians. His talk was co-sponsored by C-M-S Athletics and many student-athletes and coaches were in attendance. According to the Athenaeum's Manager, David Edwards, many of the people attending the dinner had never been to the Ath before. Knowing that we had reached a difficult audience was particularly rewarding because that was our goal to reach and educate a new group of students that may have been unfamiliar with the topics of homosexuality other than what they have seen in our pop culture and media. Welts talked about his life as a gay man in the sports industry and his experience coming out in May 2011. Welts discussed the difficulties presented for gay people in professional athletics, hoping that the next big obstacle to be overcome is for a distinguished athlete to take the brave step of coming out while still playing. According to Welts, Nike is waiting to sponsor that daring trailblazer, whoever he or she may be.
The Spring 2012 semester brought even more acclaimed speakers, including Fran Lebowitz, Dan Savage, Nick Altemose, and Tony Kushner. Commentator and humorist Fran Lebowitz entertained the audience with an hour-long Q&A session following her interview by Professor Eric Puchner. The following night, co-founder of the It Gets Better Project, Dan Savage, discussed the role of mentorship in helping prevent LGBT youth suicide. The highlight of his talk may have been when Savage, who also writes authors the sex advice column, Savage Love for Seattle's newspaper The Stranger, solicited questions from students. During the Q&A, Savage was asked why college students weren't having better sex. His response: students need to do a better job communicating about sex and ask the simple question: "What are you into?" This led Savage to make an important point about the frequent failure of students to obtain consent, pointing out that, sadly, sexual assault continues to be a problem at even the most elite college institutions. Over 300 people were on hand for Savage's talk, including the overflow of people watching a live broadcast from McKenna Auditorium. It was obvious how Savage's message continued to resonate with the community after his speech as evidenced by the explosion of commentary on Facebook later that evening.
Nick Altemose, an openly gay Marshall Scholar and Doctor of Philosophy candidate at Oxford University, spoke to a group of students in the Athenaeum's Parents Dining Room on April 9. In a poignant speech, Altemose described his tumultuous childhood in Riverside County and coming to terms with the conflict between his religion, family, and sexuality. Lastly, the Shifting Perceptions Series hosted Pulitzer Prize winning playwright, Tony Kushner, famous for his play, Angels in America. Kushner discussed his recent work on Lincoln, an upcoming movie directed by Steven Spielberg about our historic president.
Ultimately, Shifting Perceptions has increased dialogue about sexuality at CMC and increased consciousness about the under-representation of LGBT students on our campus. Many are quickly realizing that the climate of CMC's culture is changing, and with new awareness, it is leaving the days of intolerance in the past. Fittingly, the Athenaeum hosted the Queer Resource Center's Lavender Graduation on April 27, 2012. Further, ASCMC overwhelmingly backed a gender-neutral housing option this Spring semester. Additionally, a collection of female students from the Class of 2012 started an informal group called "Women's Summit" to socialize with each other and discuss women-specific campus issues. Next year, CMC's 2012-2013 Resident Assistants will continue the work through a continuation of Shifting Perceptions. The impact of the series can already be seen on CMC's campus. While we should enjoy these accomplishments, there is still work to be done. Sexual assault needs to be addressed and we need to be more conscious about the role of female leaders on campus. In the meantime, let's continue to affirm each other and strengthen the CMC community to make it a better place for all its students, faculty, and staff. We are all CMCers.