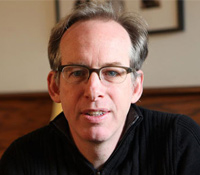 People will do lots of things to get out of paying taxes, but what about those who do the slightly unconventional to pay what they owe? Years before distinguished writer Paul Elie debuted his award-winning book, The Life You Save May Be Your Own: An American Pilgrimage (Farrar, Straus and Giroux, 2003), he was suffering for his art, with a bank account weighing at one point an anorexic $50. Meanwhile, he owed the government $2,000. Rather than claim hard times, the then struggling artist got creative. "I masochistically paid my tax debt by writing a piece for Lingua Franca a 6,000-word profile of Alasdair MacIntyre, a brilliantly complicated philosopher who had just completed a thousand-page trilogy," Elie recalls in an online interview for Days of Yore. "What a way to pay the tax man!"
The American writer and longtime editor for publishing house Farrar, Straus and Giroux, will visit Claremont McKenna College on Thursday, Oct. 4a guest of the Gould Center's sponsored series on "History, Biography, and Human Agency." Elie will give an Athenaeum dinner lecture at 6:45 p.m. centered on his just-released book, Reinventing Bach (Farrar, Straus and Giroux, 2012).
Elie, now a senior research Fellow at the Berkley Center for Religion, Peace, and World Affairs at Georgetown University, describes his new book as "the story of how gifted musicians from Albert Schweitzer to Yo-Yo Ma have taken advantage of new technology to reinvent the music of Bach for our time." In a Q&A with The New York Times on Sept. 14, Elie offered a fairly simple reason for exploring the classical musician's world: "I heard Bach several times in my early 20s and just felt overwhelmed," he said. "The music affected me so strongly, but I didn't know anything about it."
The resulting examination of German composer Johann Sebastian Bach is, by The Economist's measure, a "book of epic sweep, like a novel made up of multiple strands Elie deploys considerable scholarship and he writes beautifully."
In a Los Angeles Times review in September, music critic Mark Swed concluded that, "The basic pillars of this study are sturdy. Elie looks at how a composer influenced the outer and inner lives of four key 20th century BachiansAlbert Schweitzer, Pablo Casals, Leopold Stokowski and Glenn Gouldand how they then not only contributed to making Bach central to the modern musical experience but also radicalized it."
Elie is perhaps best known for his prize-winning book on four writersincluding Flannery O'Connorcalled The Life You Save May Be Your Own: An American Pilgrimage. The book led to numerous awards, including the PEN/Martha Albrand Award for First Nonfiction, a Christopher Award, the Beliefnet Book of the Year award, and made Elie a finalist for the 2004 National Book Critics Circle Award. The author is also a prolific essay writer whose work has been published in The Atlantic, Commonweal, The New Republic, and The New York Times, among others.
He began working at publishing house Farrar, Straus and Giroux in 1993, having previously worked part time as a copy editor for Publishers Weekly. The father of three lives with his wife in New York, and says editing the works of others full-time only strengthened his resolve to work on his own creative projects.
"I am never going to be an editor who is only out there working with other writers," he told Days of Yore. "I have to cup the flame of my own talent and make sure that it doesn't go out I try to take a few minutes for my own work before the workday begins," he says. "Even five minutes. It's now a habit. It's to the point where I feel like I've forgotten to zip my fly or something if I haven't taken that time."
Since 2008, he also has moderated Georgetown's Faith & Culture series, which invites writers to talk about their work in the context of religion and culture.
For more information about other Gould Center-sponsored speakers this semester, visit the Center's website.