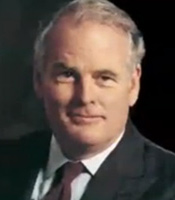 This month marks the fifth-year anniversary of the history-making Robert A. Day gift to Claremont McKenna College.
Five years ago in September 2007, the College announced Mr. Day's pledged $200 million personal gift to support student scholars interested in pursuing careers in economics and finance. It was not only the largest recorded gift to a liberal arts institution, but was among the top 20 largest gifts ever given to a college or university. (Read the announcement.)
With this transformative gift, CMC established the Robert Day Scholars Program. A decision by the Claremont McKenna College Board of Trustees soon followed to honor Robert Day '65 P'12's generosity, by naming a new school focused on economics and finance after him. CMC now has the Robert Day School, where aspiring leaders focus their undergraduate and graduate studies on economics, accounting, and finance in a liberal arts setting. Its conception and fruition also seeded the College with resources and advantages, at a time when other institutions were cutting services, and provided an unparalleled level of advanced finance training at the College, amid constantand continuing flux and upheaval in the financial world.
At the five-year benchmark of the Day School, a curriculum devoted to providing accelerated and comprehensive, big-picture training is firmly locked into place. Already the program, including its courses for undergraduates at The Claremont Colleges as well as its master's of finance program, is paying dividends with internship and job placement records for Day Scholars, inspiring schools such as Stanford, Emory, and Brandeis to offer accelerated training programs of their own at the undergraduate and graduate levels in various disciplines.
CMC President Pamela Gann says the purpose of the Robert Day Scholars program was to be sure that undergraduates had literacy in accounting, finance, and leadership psychologyand were responsible leaders.
"Robert Day saw these areas as important for any type of leader," she says, "not only business leaders, but lawyers, judges, presidents of colleges, and many others."
Mr. Day was honored on campus, in recognition of the five-year anniversary of his extraordinary gift to the College.
Read more about Robert A. Day.