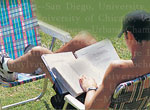 Using data collected from university Web sites during spring 2010, the Roberts Environmental Center (REC) at Claremont McKenna College has released an analysis of the corporate environmental and social sustainability reporting of the 50 top national universities.
Leading the list with an "A+" is the University of Florida, followed by Georgetown, the University of Southern California and Vanderbilt, all of which received an "A" rating. The study analyzes voluntary environmental and social reporting by national universities. The lowest performers in the report were Wake Forest and Lehigh universities, both of which were given a "D+" grade.
Despite the barely passing grades for these two universities, Center director J. Emil Morhardt, director of the Center, notes that the overall performance of the group is more uniform than in most industrial sectors, which tend to have a few stellar performers and many more mediocre ones.
Student researchers working on the report noted that both colleges and large universities in the United States have "dramatically increased the extent to which they address sustainability, since last scored by the Roberts Center three years ago." They also performed better than the liberal arts colleges scored under the same methodology last spring. And although the top scores are low compared to Fortune 500 corporations, "significant improvement" has been made, they said, in such key areas as recycling, green building, and greenhouse gas emissions.
Green building, especially, the researchers say, is a growing trend among colleges and universities aiming to lower their carbon footprints and strengthen their sustainability policies. Many are taking advantage of the LEED (Leadership in Energy and Environmental Design) rating system, which assesses construction projects in nine categories including sustainable site development, water efficiency, indoor environmental quality, innovation in the design process, and material and resources use. The University of North Carolina-Chapel Hill, for instance, has more than 150 upcoming construction projections, "all of which will be built to attain LEED Silver," the Roberts study noted.
The full, 85-page report is available online. Social reporting by the top 50 national universities looked at how schools reported information on such topics as their financials, employees, safety, social management organization, social vision and commitment, stakeholders, and social policy and initiatives.
It is the hope that this REC Sector Analysis will encourage these universities to increase environmental and social transparency.
Many of the university's websites represent the company as being responsible when it comes to sustainability, but oftentimes the materials and information on the website does not provide evidence of that, therefore giving them lower scores.