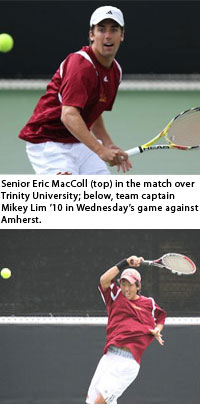 They may have missed playing for the national title by a point, but the Stags still finished their extraordinary tennis season with a redeeming win on May 27 against one of the top-ranked teams, beating Washington University in St. Louis 5-2 to finish third at the NCAA Team Championships. This is the second time in the past three years that CMS has finished third in the nation.
Head men's coach Paul Settles attributes the strength of this year's team at least partially to its resiliency. "I wouldn't say they're the most talented group, but this is the toughest team I've ever coached," he said. "There were times I doubted that they could come through, and they did. They always believed in themselves. When their backs were against the wall, they found a way to get results."
After advancing to the NCAA Quarterfinals on Tuesday, May 25, the Stags beat Trinity University, Texas, 5-2, to earn a spot in the Division III Final Four held Wednesday, May 26 at Oberlin College. It was during Wednesday's semi-finals that CMS lost to No. 5 ranked Amherst by a heartbreaking 5-4 decision, Settles says. "We were literally a point away from playing for a national title." (Read details.)
But proving its aforementioned resiliency, team captain Mikey Lim '10 says the team bounced back from its disappointing loss on Wednesday to win against Washington University the following afternoon, and take third place in the NCAA championships. "It's nice to finish the season on a win," said Lim, answering a call on his cell phone just before heading off to the NCAA awards banquet, hosted by Oberlin. "We can't dwell on what happened yesterday (with Amherst). We came back to beat a really good team today and we feel good about that. It gives us something to build off for next year."
Although Lim, who just graduated from CMC, now leaves the fate of the Stags to his younger teammates, he is encouraged by the closeness of the players, which he says also was a factor in this season's successes. "We're all good friends and throughout the year it was a good feeling to look across the courts and into the eyes of your teammates, and know that you were doing it for them."
Settles says depth of this team was yet another factor in this year's successeswith two freshmen, Alex Johnson and Mac Cahill, playing at #5 and #6 singles. "Collectively, I think they lost maybe one set in their last 10 matches," he noted. "When you're looking down at courts #5 and #6 and know you'll have success down there, it frees our top of the lineup to take some chances. We had tremendous leadership from our younger players."
With hopes for another successful season, Settles already is looking forward to next year's 2011 NCAA Division III Championships, which will be co-hosted by CMS and Pomona-Pitzer at the Biszantz Family Tennis Center on the Claremont McKenna College campus. It will be the first time that both the men's and women's tennis championships will be played at the same venue, he says.
"We're pretty excited about that," he said. "And it will be another opportunity to outdo what we've accomplished this year. We're hoping to keep the championship trophy in Claremont."