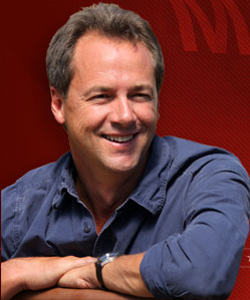 While most of the world was watching the duel between President Barack Obama and Republican Mitt Romney on Election Day, Steve Bullock '88 was at the center of another important battle in his home state of Montana.
In a contentious nail-biter characterized by the Helena Independent Record as a "slugfest," the Democratic first-term attorney general defeated former GOP congressman Rick Hill to take the Montana governohttps://www.claremontmckenna.edu/secure/cmcpublications/item.asp?article_id=2085&action=edit#r's office vacated by term-limited Democratic Governor Brian Schweitzer.
That race stretched into Wednesday afternoon as votes were tallied, and Bullock maintained a slim margin over his opponent. When returns were counted from key counties on Wednesday, he was declared the winner, according to the Washington Post.
"I'm very excited, very energized for what we can do going forward," Bullock told supporters Wednesday. "It's been a long process but we've had wonderful support from all over."
While CMC alumni are in legislative posts at many levels of the U.S. government, Bullock is the first to occupy the gubernatorial mansion.
"Montanans have placed their faith in Steve's strong leadership," said Maryland Gov. Martin O'Malley, chairman of the Democratic Governors Association, said in a statement. He added that Montanans "know that he'll build on Governor Schweitzer's legacy of strong fiscal management and job creation, helping to continue moving Montana forward."
Bullock's victory was especially important to the Democratic Governors Association, which watched as many of its members defended 8 of 11 gubernatorial seats on Tuesday.
The Associated Press characterized the two-year campaign between Bullock and Hill as a familiar one, following "a well-worn trail." That all changed in the final days, however, when A.P. reported that the campaign "veered into the courtroom."
The reason?
A $500,000 contribution that Hill received from the Montana Republican Party. In a dispute involving court rulings that first lifted campaign contribution limits and then blocked the lifting of those limits, Bullock sued Hill to return the money in observance of those limits. He didn't hesitate to raise that issue against Hill in an aggressive debate held late in October.
"No one in Montana is above the law," Bullock said during the debate. "Not a common criminal, not a crooked CEO and not a former congressman who's running for governor."
The fierce sense of fair play and an appetite for justice characterizing Bullock's campaign have marked his entire career, dating to his undergrad years when he was a Philosophy, Politics, and Economics major.
Bullock's PPE degree served as an ideal springboard into Columbia Law School. He spent several years working for the Department of Justice and large firms in New York City and Washington D.C. before returning home in 2005 to Helena, Montana, where he set up a law firm. He has remained an active member of the alumni community in spite of his responsibilities back home in Montana.
"Can a single lawyer make a difference?" he asked an audience of CMCers during a 2009 campus visit sponsored by the Center for Human Rights Leadership.
Bullock was elected Attorney General in 2008: The Montana Missoulian characterized him as having a deft ability "to steer bills through a Republican-controlled 2011 Legislature" and to focus on "bills aimed at Montana's drunken driving and prescription drug abuse problems."
Bullock's campaign for governor was built on a promise to continue former Gov. Schweitzer's success in state surpluses and to keep the state economy strong at a time when the rest of the U.S. is still coping with recession.
Rena Bever, Associate Director, Institute Relations Recalls a Fond Steve Bullock '88 Memory