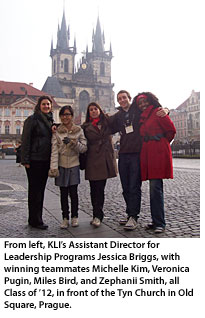 Four CMC students represented the Kravis Leadership Institute and the College last week in the Student Case Competition at the International Leadership Association's annual global conference. The conference, held in Prague, Czech Republic, Nov. 11-14, brought together more than 650 leadership scholars, students, and practitioners from across the globe to discuss and explore various leadership concepts. This is the third year the conference has included a student case competitionpart of an effort to engage student participants, and offer a more interactive experience for these younger attendees.
Sophomores Miles Bird, Michelle Kim, Veronica Pugin and Zephanii Smith spent several weeks in October reviewing the Harvard Business Review case of Steve Luczo, CEO of Seagate Technology, in preparation for the competition, and presented their analysis and suggestions during a poster showcase after the opening session of the conference. The team was selected to continue on to the second round, requiring them to give an oral presentation of their analysis to a panel of judges the last night of the conference. Their hard work paid off and was rewarded with a $1,000 cash prize as well as individual memberships to the International Leadership Association for the upcoming year.
Other schools that participated in this year's competition include Marietta College, Eastern University and Virginia Tech.
"The ILA conference was a one-of-a-kind experience that served as a melting pot for people across the globe to come together and exchange information an ideas," Zephanii Smith said. "Beyond this, we had great exposure to the latest developments in leadership studies and made meaningful connections with individuals who share similar interests in this arena. It was an opportunity to apply our studies through participation in the case competition and most importantly to see the big picture of why we study and develop leadership, and how it relates to what is going on in our world."
"It was a life changing experience that taught me invaluable lessons about how to apply leadership in my own life, and use it to impact others around me," Michelle Kim noted. "Learning leadership-development practices from field experts and internationally acclaimed scholars was a unique and once in a life time opportunity."