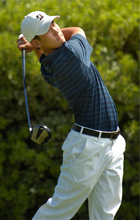 CMS top golfer Tain Lee '12, last year's SCIAC and NCAA Division III champion, tied for 2nd place in the 2010 Western Refining College All-America Golf Classic. Lee, representing Claremont-Mudd-Scripps, was the only DIII player in the prestigious tournament, competing against 31 of the nation's DI All Americans, including the U.S. Amateur champion, the NCAA champion, and the returning event champion. This year's winnerAlex Ching of the University of San Diegoeventually outplayed Lee by three strokes. Read more.
Lee is the first CMC/CMS golfer to participate in the Classic and was leading the event by mid-afternoon on Monday. As play continued into the third round on Tuesday, Lee and Ching were just a stroke apart all day, says CMC Director of Athletics and Physical Education Mike Sutton. Ching, says Sutton, took the lead on the 16th hole and as Lee pressed to catch him, he pulled his Tee shot on the 17th, clipped a tree, and ricocheted into a water hazardleading to a double bogey with just one hole remaining.
Lee's remarkable finish in the Classic is no small feat. Of the more than 650 athletes who've competed in the Classic, he is only the sixth DIII champion invited to play. Past tournament champions include the names Tiger Woods (1995), Chris Nallen (2003), and Nicholas Thompson (2004).
"Tain represented himself, CMC, and Division III golf very well," Sutton says. "Champion Alex Ching won the tournament with outstanding shots on the 15th and 16th holes. Kudos to both, and congratulations to their CMC alumni fathers."
Coincidentally, both Lee and Ching are sons of CMC alumniand, both dads played soccer for former CMS soccer coach Steve Davis and the Stags in the 1970s. (Lee's father Spencer graduated in '78 and Ching's father Steve graduated in '74.)
Read more about the event. Player bios and photos (including Lee's).
In addition to his stellar finishes last season, Lee also won the 2010 Arnold Palmer Award and the 2010 Jack Nicklaus Award.